Oasis of the Seas Western Caribbean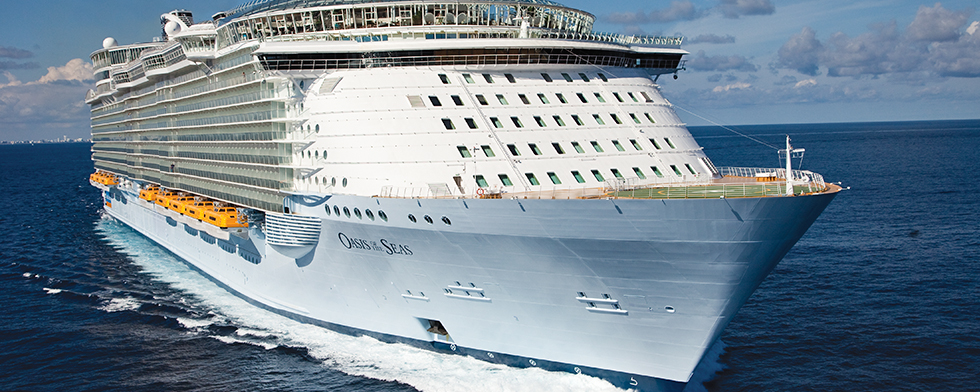 To contact the resort, please call 1.888.249.8810
Overview
Overview
Port Everglades, 1850 Eller Drive, Fort Lauderdale, Florida, 33316, United States
THIS IS AN EVENT OF A LIFETIME. PLEASE BE SURE TO READ THE FULL DETAILS OF PARTICIPATION
Sunday – Port Everglades (Embark)
Depart 4:30 p.m.
Welcome to the Oasis of the Seas – enjoy exploring the beautiful ship and all the amazing amenities she has to offer. Be on the lookout for a welcome folder delivered to your cabin no later than the start of the Muster Drill.
Monday – At Sea
Tuesday – Docked Labadee, Haiti
Arrives: 7:00 AM Departs: 4:00 PM
Enjoy your day in Labadee Haiti – a Royal Caribbean private island. and later that evening enjoy an amazing dinner at a Royal Caribbean specialty restaurant – Giovanni's Table.
5:30 & 8:30 seatings – group will be split in half
Wednesday – Docked Falmouth, Jamaica
Arrives: 9:30 AM Departs: 6:00 PM
No events scheduled with Diamond Resorts – enjoy your day! Falmouth is nestled between Montego Bay and Ocho Rios where there's a lot to do. Enjoying a relaxing ride along the shoreline, horseback riding on the beach, visit the water square and jam out with the locals to live reggae. Your trip to Falmouth wouldn't be complete without trying the fiery jerk chicken and rum cake, two local favorites.
Thursday – At Sea
Friday - Docked Cozumel, Mexico
Arrives: 7:00 AM Departs: 7:00 PM
No events scheduled with Diamond Resorts – Enjoy your day! Cruise to Cozumel and head to Chankanaab National Park, where you can snorkel among the colorful reefs and schools of tropical fish that give this island its premier diving status. Or travel back in time on an adventure through the towering Maya ruins of Tulum. When you're done exploring, unwind with a beachside massage at Playa Mia.
Saturday – At Sea
Sunday – Fort Lauderdale, Florida (Disembark)
Arrives at 6:15 AM
2020 Departure Dates:
December 6
Important Information
- The above itinerary may alter and arrive at the above ports on different days throughout the sailing.
- Arrival and departure hours are per the local port timings and are subject to change.
- The Points value for this cruise is defined in the Annual Global Reservations Directory/Points Chart in the Member Information Area. Points price is per cabin and does not include port taxes and fees, which are to be paid in cash. There is no processing fee charged in relation to any cruise points reservations.
- Please note that any additional cash fees paid to the cruise line as part of booking your cabin are not eligible for member benefits redemption. This includes but is not limited to, accommodation upgrades fees, additional passengers and shore excursions.
- To check availability or book your cruise, please either log in to your membership or call your dedicated member services team.

Experiences and Nearby Activities

Onsite Amenities and Activities

Accommodations
Accommodations
Guest Accommodation Information
Photo Gallery
Maps, Directions & GPS
Maps, Directions & GPS
1850 Eller Drive
Fort Lauderdale, Florida, 33316
United States
Directions
General
Driving: Please use the Google Maps links above.
Airports
Main Airport
Airport: Orlando International Airport
Distance to Resort: Approximately 45 minutes west of Port Canaveral.
Secondary Airport
Airport: Melbourne International Airport
Distance to Resort: Approximately 25 miles (40 minutes) south of Port Canaveral.
Services & Amenities
Services & Amenities
On-site Services
Cruise Details: Once your cruise is confirmed, the points price of your cruise/cabin includes:

- Ship accommodation
- Ocean transportation
- Most meals on-board
- Some beverages on-board
- Most entertainment and activities on-board

Please note: Services and amenities on your ship may vary from the details highlighted on this page.
News & Events
Dining
Dining
All the activities and excursions on a Royal Caribbean cruise will help you work up a real appetite! And whether you're hungering for a quick snack or an elegant dinner, we've got you covered!
Dining options vary from ship to ship, but here's an idea of what you'll find:
- Enjoy warm, full meals for breakfast and multi-course dinners in the main dining room.
- Options abound in the Windjammer Café - perfect for a quick lunch or a casual meal.
- Our Speciality Restaurants – like Chops Grille – offer amazing food in a restaurant atmosphere.
- If you've got a sweet tooth, grab a scoop at Ben & Jerry's or a creamy shake at Johnny Rockets - our lively on-board diner.
Meals from many on-board venues, such as the main dining room and Windjammer Café, are included in the price of your cruise. There is a service charge per person to dine at Chops Grille and Johnny Rockets. Prices are subject to change.
SPECIFIC DETAILS OF DINING INFORMATION FOR THIS SHIP/ITINERARY CAN BE VIEWED WHEN YOU LOG-IN TO YOUR ONLINE RESERVATION ONCE YOU HAVE RECEIVED YOUR BOOKING CONFIRMATION FOR THIS SAILING.
Restaurants & Lounges
Bar/Cocktail Lounge
Cafe/Coffee Shop or Service
Restaurant
Room Service
Fact Sheet
Fact Sheet
Arrival Information
Check In/Out
Check in time: 16:00
Check out time: 10:00
You Need To Know
Prior to checking in:
- During your reservation booking process, you will be required to pay your port fees and taxes before securing your reservation. Approximately 7-10 business days after we have all your additional information and have supplied the details to the cruise line, you will receive your Royal Caribbean check-in credentials, along with all the information about your cruise.
- Prior to check-in, all guests traveling must be registered with Royal Caribbean Cruise Line, those not included in the (2) guests paid by points must be pre-paid and pre-registered with the cruise line directly to avoid delay at embarkation.
- Disembarkation usually begins 2 hours after docking.
- Due to security reasons, all guests must be on board 2 hours before sailing.
- Itineraries and arrival/departure times are subject to change at any time without notice and is the responsibility of the guest to regularly check for updates by logging into your cruise reservation on https://www.royalcaribbean.com/.
- Check your specific sailing for exact departure and arrival times. All times are local to the port and are subject to change.
- All passengers must be in possession of a valid passport valid for at least 6 months beyond completion of travel along with any visa requirements to enter the country where your cruise begins. It is recommended that you also take out the necessary Travel Insurance coverage that covers you and your travelling companions prior and during your travel plans in case of any unforeseen emergencies should occur.
- Please be advised, a 120 minute owner's update is required for this stay. A Diamond team member will be in contact to confirm date.
Charges
Parking and/or Transfers Parking is available in a covered garage at the cruise terminal for approximately $20 per day (subject to change). For vehicles longer than 20 feet, the rates are $26 per day. Payment is made as you enter the facility in cash or credit card. Prices are subject to change.
Advance reservations are not required but can be made by accessing the port website at: www.portcanaveral.com

Optional airport and pier transfers
Ease into your cruise adventure by letting Royal Caribbean safely get you to and from the ship with one of our easy-to-purchase ground transfers. If you choose to make your own air arrangements, you may wish to purchase ground transport to the ship. Transfers are available for pre-purchase from the arrival airport to the pier on day of sailing, and from the pier to the departure airport on debarkation day only.

It is recommended that transfers be purchased two weeks prior to sailing. Please remember we require flight information in order to promptly meet all guests.
Accessibility
Accessibility
Accessibility Corporate Statement
Diamond Resorts is committed to providing stress-free holidays to our members, owners and guests. We take into consideration the needs of those who have a visual or hearing impairment, or a mobility access requirement.
We have an ongoing program of commitment which consists of:
Ensuring we comply with the current accessibility legislation.
Making appropriate enhancements (where possible) to resorts and resort plans.
Offering a wide range of accessibility aids.
Improving internal awareness and training.
Offering an appointed Accessibility Ambassador in each Resort, to take care and assist our members, owners and guests with accessibility needs.
Providing accurate information on our website, including information on access, available facilities and accessibility aids.
Communicating with our members via regular disability forums and surveys to identify areas for improvement.
Producing compliant literature and communicating within the same guidelines.
*Note: Please bear in mind that accessibility aids may vary from resort to resort.


We have ADA amenities available. For any guests needing assistance, or if you have any questions/comments regarding the above, please contact us at:
Call: 1.888.250.6150

E-mail: accessrequirements@diamondresorts.com
Weather