Radiance of the Seas Alaska from Vancouver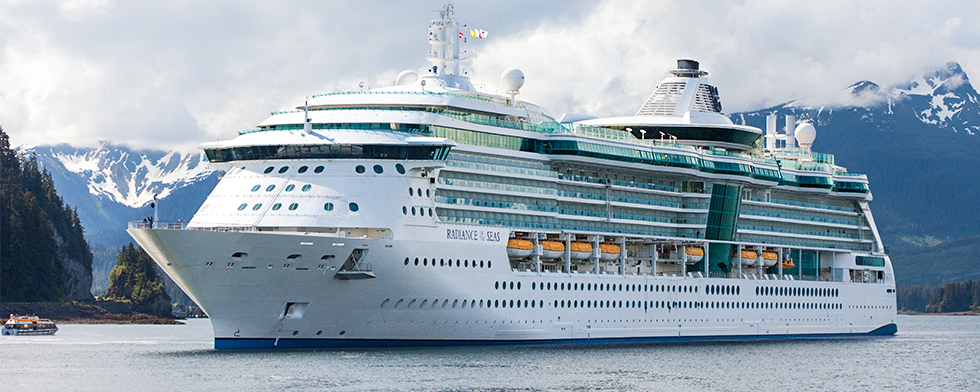 Overview
Overview
Club Affiliated
999 Canada Place, Vancouver, British Colombia, Canada, V6C 3E1
7 Nights Northbound (One Way) Alaska & Hubbard Glacier from Vancouver
Day 1 – Vancouver, British Columbia (Embark)
Depart 4:30 pm
If you are planning to arrive early for your cruise, make sure to head to one of the local farmer's markets to enjoy all of the fresh and amazing cuisine that Canada has to offer!
Day 2 – Inside Passage (At sea)
Here you'll maneuver harmonious waters, curtained between the British Columbia mainland and Vancouver Island. Catch a glimpse of astonishingly rugged scenery along the way, plus wildlife like salmon sharks, white spirit bears, and millions of seabirds.
Day 3 – Ketchikan, Alaska
Arrive 6:00 am - Depart: 4:00 pm
Nicknamed the canned salmon capital of the world, Ketchikan is prosperous in both fishing and culture. You'll find more totem poles here than anywhere else in the world, and a Native spirit kept alive by three tribes of Northwest Coastal People.
Day 4 – Icy Strait Point, Alaska
Arrive 9:00 am - Depart 6:00 pm
If you are ready for an adventure, you will love hanging out in Icy Strait Point. Go whale watching in Point Adolphus or sea lion spotting in Glacier Bay National Park. You can also gear up to go soaring over mountain forests on the world's longest zip line.
Day 5 – Juneau, Alaska
Arrive 7:00 am - Depart 9:30 pm
Juneau is the largest U.S. state capital— and almost impossible to access except by air and sea. Once you arrive you'll find adventure in every corner as you are surrounding by breathtaking views of the mountains, tundra and rainforests. Go dogsledding over Mendenhall Glacier, or prospecting along centuries-old mining trails. In Juneau, the possibilities are as endless as the surrounding wilderness.
Day 6 – Skagway, Alaska
Skagway has served as an outpost for thrilling Alaskan adventure, dating back to the 1800's in its Klondike Gold Rush days. Experience an old-time street car ride along bustling Broadway Street where you might just catch a glimpse of historical reenactments. You can chose from tons of excursions from dog-sledding on Laughton Glacier to rafting Lynn Canal, the longest fjord in North America.
Day 7 – Hubbard Glacier, Alaska (At sea)
Arrive 9:00 am - Depart 11:00 am
Home to the largest tidewater glacier in North America, experience Hubbard Glacier, Alaska. You'll get panoramic views of its gigantic expanse as you sail into Disenchantment Bay near the glacier's 400-foot-tall face — Hubbard is a massive 76 miles long and 1,200 feet deep.

Day 8 – Seward, Alaska (Disembark)
Arrive 5:00 am
2020 Departure Dates:
- August 7
Important Information
- Arrival and departure hours per the local port timings and are subject to change.
- The points value for this cruise is defined in your points directory/chart in the Member Information Area. Points price is per cabin and does not include port taxes and fees which are to be paid in cash. There is no processing fee charged in relation to any cruise points reservations.
- Please note that any additional cash fees paid to the cruise line as part of booking your cabin are not eligible for member benefits reimbursement. This includes but is not limited to, accommodation upgrades fees, additional passengers and shore excursions.
- To check availability or book your cruise, please either log in to your membership or call your dedicated member services team.
Experiences and Nearby Activities

Onsite Amenities and Activities

Accommodations
Accommodations
Guest Accommodation Information
Photo Gallery
Maps, Directions & GPS
Maps, Directions & GPS
Vancouver, British Colombia
Canada, V6C 3E1
Directions
General
Driving: Please use the Google Maps links above.
Airports
Main Airport
Airport: Vancouver International Airport
Distance to Resort: Approximately 16 miles (45 minute drive).
Services & Amenities
Services & Amenities
On-site Services
Cruise Details:

Once your cruise is confirmed, the points price of your cruise/cabin includes:

- Ship accommodation
- Ocean transportation
- Most meals on-board
- Some beverages on-board
- Most entertainment and activities on-board

Please note: Services and amenities on your ship may vary from the details highlighted on this page.


News & Events
Dining
Dining
All the activities and excursions on a Royal Caribbean cruise will help you work up a real appetite! And whether you're hungering for a quick snack or an elegant dinner, we've got you covered!
Dining options vary from ship to ship, but here's an idea of what you'll find:
- Enjoy warm, full meals for breakfast and multi-course dinners in the main dining room.
- Options abound in the Café - perfect for a quick lunch or a casual meal.
- Our Speciality Restaurants – like Chops Grille – offer amazing food in a restaurant atmosphere.
Meals from many on-board venues, such as the main dining room and Windjammer Café, are included in the price of your cruise. There is a service charge per person to dine at Chops Grille.
SPECIFIC DETAILS OF DINING INFORMATION FOR THIS SHIP/ITINERARY CAN BE VIEWED WHEN YOU LOG-IN TO YOUR ONLINE RESERVATION ONCE YOU HAVE RECEIVED YOUR BOOKING CONFIRMATION FOR THIS SAILING.

Prices are subject to change.

Restaurants & Lounges
Bar/Cocktail Lounge
Cafe/Coffee Shop
Restaurant
Room Service
Fact Sheet
Fact Sheet
Arrival Information
Check In/Out
Check in time: 16:00
Check out time: 10:00
You Need To Know
Prior to checking in:
- Once you have made your points reservation for your cabin, you will be contacted by phone or email to request the payment of port fees and taxes to be paid in cash. You will also be given the option to upgrade your cabin at an additional cost. Approximately seven days after we have all your additional information and have supplied the details to the cruise line, you will receive your Royal Caribbean online check-in credentials, along with all the information about your cruise.

- Prior to check-in, all guests traveling must be registered with Royal Caribbean, those not included in the (2) guests paid by points must be pre-paid and pre-registered with the cruise line directly to avoid delay at embarkation.

- Disembarkation usually begins 2 hours after docking.

- Due to security reasons, all guests must be on board 2 hours before sailing.

- Itineraries and arrival/departure times are subject to change at any time without notice and is the responsibility of the guest to regularly check for updates by logging into your cruise reservation on https://www.royalcaribbean.com/.

- Check your specific sailing for exact departure and arrival times. All times are local to the port and are subject to change.

- All passengers must be in possession of a valid passport valid for at least 6 months beyond completion of travel along with any visa requirements to enter the country where your cruise begins. It is recommended that you also take out the necessary Travel Insurance coverage that covers you and your travelling companions prior and during your travel plans in case of any unforeseen emergencies should occur.

- Diamond Resorts International Club, Inc., its parents, sister companies, and subsidiaries, make no warranty, express or implied, as to the condition, capacity, performance or any other aspect of the activities, events, or service providers listed herein. No inquiry has been made into the activities or events, or the qualifications or the quality of services offered by the providers. Do not consider this an endorsement of or recommendation for any of the activities, events, or providers.
Charges
Parking and/or Transfers For reservations, information and rates for parking please contact Vinci Park Canada Place, Vancouver or visit the Port of Vancouver website for additional information.

Ease into your cruise adventure by letting Royal Caribbean safely get you to and from the ship with one of our easy-to-purchase ground transfers. If you choose to make your own air arrangements, you may wish to purchase ground transport to the ship. Transfers are available for pre-purchase from the arrival airport to the pier on day of sailing, and from the pier to the departure airport on debarkation day only.

It is recommended that transfers be purchased two weeks prior to sailing. Please remember we require flight information in order to promptly meet all guests. Once transfers are purchased, return to Online Check-In and provide your flight itinerary.
Accessibility
Accessibility
Accessibility Corporate Statement
Diamond Resorts is committed to providing stress-free holidays to our members, owners and guests. We take into consideration the needs of those who have a visual or hearing impairment, or a mobility access requirement.
We have an ongoing program of commitment which consists of:
Ensuring we comply with the current accessibility legislation.
Making appropriate enhancements (where possible) to resorts and resort plans.
Offering a wide range of accessibility aids.
Improving internal awareness and training.
Offering an appointed Accessibility Ambassador in each Resort, to take care and assist our members, owners and guests with accessibility needs.
Providing accurate information on our website, including information on access, available facilities and accessibility aids.
Communicating with our members via regular disability forums and surveys to identify areas for improvement.
Producing compliant literature and communicating within the same guidelines.
*Note: Please bear in mind that accessibility aids may vary from resort to resort.


We have ADA amenities available. For any guests needing assistance, or if you have any questions/comments regarding the above, please contact us at:
Call: 1.888.250.6150

E-mail: accessrequirements@diamondresorts.com
Weather