Ruby Princess Alaska 7 Night Cruise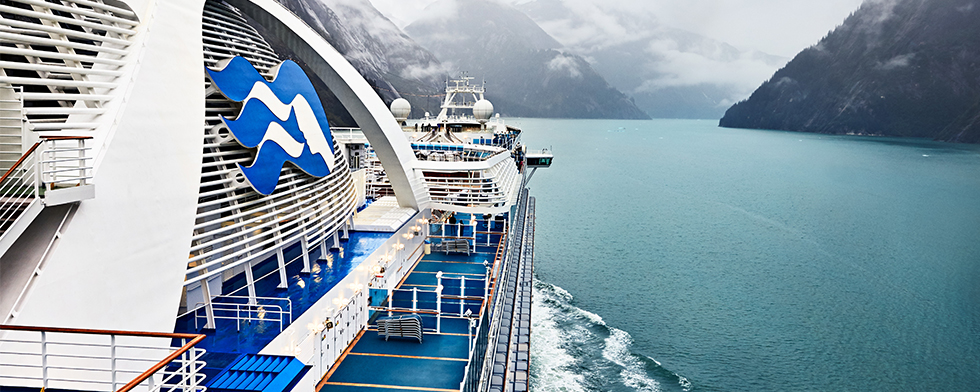 Overview
Overview
Club Affiliated
Port of Seattle, Seattle, Washington, 98134, United States
Princess Cruises – Ruby Princess Alaska 7 Night Cruise
CRUISE ITINERARY
Day 1 - Seattle WA  (Embark)
Departs 4:00pm
Day 2 -  At Sea
 
Day 3 - Juneau, Alaska, US
Arrive 11:00am - Depart 10:00pm
Juneau is the largest U.S. state capital— and almost impossible to access except by air and sea. Once you arrive you'll find adventure in every corner as you are surrounding by breathtaking views of the mountains, tundra and rainforests. Go dogsledding over Mendenhall Glacier, or prospecting along centuries-old mining trails. In Juneau, the possibilities are as endless as the surrounding wilderness.
Day 4 - Skagway, Alaska, US
Arrive: 7:00am - Depart: 8:30pm
Skagway has served as an outpost for thrilling Alaskan adventure, dating back to the 1800's in its Klondike Gold Rush days. Experience an old-time street car ride along bustling Broadway Street where you might just catch a glimpse of historical reenactments. You can chose from tons of excursions from dog-sledding on Laughton Glacier to rafting Lynn Canal, the longest fjord in North America.
Day 5 - Endicott Arm and Glacier Bay, United States (At Sea)
Arrive 7:00am - Depart 1:00pm
Protected by a network of waterways that wind through glacier-cut fjords, Alaska's Inside Passage encompasses lush temperate rain forests along the rugged coast of Southeast Alaska. The Inside Passage stretches through stunning landscapes, from Misty Fjords National Monument to famed Glacier Bay National Park & Preserve. Spot a humpback whale or an orca as you float alongside the ships, bald eagles soaring overhead and brown bears lumbering on the shoreline.
Day 6 - Ketchikan, Alaska, US
Arrive  7:00 am - Depart 1:00pm
Nicknamed the canned salmon capital of the world, Ketchikan is prosperous in both fishing and culture. You'll find more totem poles here than anywhere else in the world, and a Native spirit kept alive by three tribes of Northwest Coastal People. Venture into the Tongass National Forest – the largest in the United States for an outdoor thrill.
 
Day 7 - Victoria, Canada
Arrive 7:00pm – Depart 11:59pm
Victoria is a balance of colonial England and present-day Western Canada. Enjoy a tour of the Butchart Gardens or Scenic Victoria City Tour where you can stroll past Chinatown, Antique Row (on Fort Street), the Royal B.C. Museum and IMAX Theatre, tea houses, restaurants, pubs and shops.
Day 8 - Seattle, WA ( Disembark)
Arrive: 7:00am
 
2020 Dates:
August 15
Important Information
- Arrival and departure hours per the local port timings and are subject to change.
- Points price is per cabin and does not include port taxes and fees which are to be paid in cash. Atctime of booking. There is no processing fee charged in relation to any cruise points reservations.
- Please note that any additional cash fees paid to the cruise line as part of booking your cabin are not eligible for member benefits reimbursement. This includes but is not limited to, accommodation upgrades fees, additional passengers and shore excursions.
- To check availability or book your cruise, please either log in to your membership or call your dedicated member services team.
Experiences and Nearby Activities

Onsite Amenities and Activities

Accommodations
Accommodations
Guest Accommodation Information
Photo Gallery
Maps, Directions & GPS
Maps, Directions & GPS
Seattle, Washington, 98134
United States
Directions
General
Driving: Please use the Google Maps link provided above.
Airports
Main Airport
Airport: Seattle Tacoma International Airport
Distance to Resort: Approximately 13 miles (about a 20 minute drive).
Services & Amenities
Services & Amenities
On-site Services
Cruise Details: Your cruise fare includes accommodations, on-board activities and entertainment, all meals including room service, plus the luxury of waking up in a new port of call nearly every day.

Once your cruise is confirmed, the point's price of your cruise/cabin includes:
- Anytime Dining or Traditional Dining (breakfast, lunch and dinner)
- Room Service (24 hours)
- Casual dining venues
- Beverages (iced tea, lemonade, water, tea varieties, non-specialty coffee)
- Discovery at Sea on-board activities
- Captain's Welcome champagne waterfall reception
- Theatre/Production shows and guest entertainer shows
- Movies under the stars
- Bars, nightclubs, discos
- Casino, bingo and gaming lessons
- Dancing, karaoke and comedy
- Library and Princess Book Club
- Zumba classes
- Afternoon trivia
- Theme night parties
- Ultimate Deck Party
- Fitness center

Please note: Additional fees may apply for services such as specialty restaurants, shore excursions, laundry, etc. Services and amenities on your ship may vary from the details highlighted on this page.
News & Events
Dining
Dining
Traditional Dining
Traditional Dining is the classic cruise dining experience. Indulge in our freshly-prepared, award-winning cuisine, served at set times in an elegant dining room with the same wait staff and table mates each evening. Requests for preferences and changes are considered on a first-come, first-served basis. It is not always possible to alter dining preferences or seating arrangements once they are reserved. Once on-board and subject to availability, you may attempt to switch preferences with 24 hours notice to the Maitre D'. We will do our best to accommodate your preference.
Formal Nights
You can expect about 2 formal evenings and 5 smart casual evenings on a Princess Cruise during a typical 7-night sailing. There is a dress code on formal nights.
Speciality Dining
Variety is the spice of life, especially when it comes to gourmet fare. That's why Princess offers several specialty dining options on every ship. These distinctive restaurants provide intimate dining in an upscale atmosphere. Reservations are suggested at these popular venues. And because these restaurants at sea are truly a special treat, a cover charge will apply per person.
Casual Dining Venues
When a casual mood calls, you have plenty of choices, even on formal nights. Whether it be the buffet at the Horizon Court, the pizzeria, burger & hot dog grill, or 24-hour room service, you're able to choose how you dine with us.
Room Service
Guests may call for personal complimentary room service at any time of the day or night. To have continental breakfast delivered to the stateroom, fill out the breakfast card included in the stateroom portfolio (one is also placed on the pillow) and hang it out at night on the stateroom door in order to receive delivery the next morning at the time of your choosing. For a full stateroom menu, guests may review the stateroom portfolio, call the number listed in the telephone directory or press the "Room Service" button on their phone.
SPECIFIC DETAILS OF DINING INFORMATION FOR THIS SHIP/ITINERARY CAN BE VIEWED WHEN YOU LOG-IN TO YOUR ONLINE RESERVATION ONCE YOU HAVE RECEIVED YOUR BOOKING CONFIRMATION FOR THIS SAILING.
Restaurants & Lounges
Bar/Cocktail Lounge
Cafe/Coffee Shop or Service
Restaurant
Room Service
Fact Sheet
Fact Sheet
Arrival Information
Check In/Out
Check in time: 16:00
Check out time: 10:00
You Need To Know
Prior to checking in:
-Once you have made your points reservation for your cabin, you will be contacted by phone or email to request the payment of port fees and taxes to be paid in cash in order to complete your cruise reservation. You will also be given the option to upgrade your cabin at an additional cost. Approximately seven days after we have all your additional information and have supplied the details to the cruise line, you will receive your Princess Cruise online check-in credentials, along with all the information about your cruise.
-Prior to check-in, all guests traveling must be registered with Princess Cruise Lines; those not included in the (2) guests paid by points must be pre-paid and pre-registered with the cruise line directly to avoid delay at embarkation.
-Disembarkation usually begins 2 hours after docking.
-Due to security reasons, all guests must be on board 2 hours before sailing.
-Itineraries and arrival/departure times are subject to change at any time without notice and is the responsibility of the guest to regularly check for updates by logging into your cruise reservation on www.princess.com.
-Check your specific sailing for exact departure and arrival times. All times are local to the port and are subject to change.
-All passengers must be in possession of a passport valid for at least 6 months beyond completion of travel along with any visa requirements to enter the country where your cruise begins. It is recommended that you also take out the necessary travel insurance coverage for you and your traveling companions prior and during your travel plans in case any unforeseen emergencies occur.
-Diamond Resorts International Club, Inc., its parents, sister companies, (collectively "Diamond"), make no warranty, express or implied, as to the condition, capacity, performance or any other aspect of the activities, events, or service providers listed herein. These travel services are arranged on your behalf with the relevant supplier. Diamond does not accept any liability for any aspects of the travel arrangements booked by you.
Charges
Parking and/or Transfers Parking and/or Transfers Parking at the port
Within the port facility there is a parking garage managed by USA Parking. Please check directly with parking lot for rates. Just outside the port facility is Park N' Fly Parking. Park N' Fly offers complimentary shuttles from the lot to the ship's terminal. Phone: 954.779.1776 for details.

Optional airport and pier transfers
If you purchase a Princess airport-to-ship transfer, you'll be met by a uniformed Princess Cruises representative at the embarkation port airport. For transfer arrangement details, please visit Cruise Personalizer® on www.princess.com once your cruise reservation is complete and you have your cruise reservation number.
Accessibility
Accessibility
Accessibility Corporate Statement
Diamond Resorts is committed to providing stress-free holidays to our members, owners and guests. We take into consideration the needs of those who have a visual or hearing impairment, or a mobility access requirement.
We have an ongoing program of commitment which consists of:
Ensuring we comply with the current accessibility legislation.
Making appropriate enhancements (where possible) to resorts and resort plans.
Offering a wide range of accessibility aids.
Improving internal awareness and training.
Offering an appointed Accessibility Ambassador in each Resort, to take care and assist our members, owners and guests with accessibility needs.
Providing accurate information on our website, including information on access, available facilities and accessibility aids.
Communicating with our members via regular disability forums and surveys to identify areas for improvement.
Producing compliant literature and communicating within the same guidelines.
*Note: Please bear in mind that accessibility aids may vary from resort to resort.


We have ADA amenities available. For any guests needing assistance, or if you have any questions/comments regarding the above, please contact us at:
Call: 1.888.250.6150

E-mail: accessrequirements@diamondresorts.com
Weather