Alpine Club

To contact the resort, please call +43 368 761 2150
Overview
Overview
Alpine Club, Diamond Resorts (Europe) Limited, Austrian Branch, Alpineweg 142, 8971, Schladming, Austria
Important Resort Specific Information about Coronavirus (Covid-19): For the latest updates please go to Fact Sheet > You Need To Know
Located in a quintessential Austrian village, Alpine Club was built in traditional Alpine-style. Ideal for winter or summer fun, the resort is surrounded by natural beauty. Hike the twisting trails up to the Skywalk Dachstein or challenge yourself on one of the nearby ski slopes. Head to nearby Salzburg, the birthplace of Mozart, and immerse yourself in Austria's rich culture.
View Diamond Resorts Environmental Policy / Umweltpolitik
Experiences and Nearby Activities










Onsite Amenities and Activities














Accommodations
Accommodations
Guest Accommodation Information
Photo Gallery
Maps, Directions & GPS
Maps, Directions & GPS
Diamond Resorts (Europe) Limited
Austrian Branch, Alpineweg 142
8971, Schladming, Austria
+43 368 761 2150
Airports
Main Airport
Airport: Salzburg Airport
Directions to Resort: (From Salzburg airport) Take the A10 motorway towards Graz/Villach. Leave the A10 at exit 63 (after 57) marked Radstadt/Altenmarkt/Graz, B 320. Continue until Radstadt and turn right for Graz. After about 20km turn right for Schladming West. At the roundabout, turn right heading towards Rohrmoos. Alpine Club is 1km up the hill on the left hand side. The travel time should not take more than 60 minutes depending on traffic flow. In winter, winter tyres and possibly snow chains will be necessary. When driving on the motorway in Austria you must display a Vignette. These are provided with Austrian hire cars but are available from petrol stations.
The local train station is called "Bahnhof Schladming". Timetables, further information and prices can be found under www.oebb.at.
Bus transfers can be booked online via Flixbus, please see further information under www.flixbus.at.
Taxi fare (one way): €130.00 up to 2 persons, €140.00 for 3-5 persons, €160.00 (for 6-8 persons), if booked via the resort. Please contact the resort for the taxi booking form. If not booked via the resort €140.00 - €180.00.
Secondary Airport
Airport: Munich Airport (succeeded Munich-Riem Airport)
Directions to Resort: (From Munich airport) Take the motorway A92 towards Munich/Salzburg Austria. From Salzburg Austria take the A10 motorway towards Graz/Villach. Leave the A10 at exit 63 (after 57) marked Radstadt/Altenmarkt/Graz, B 320. Continue until Radstadt and turn right for Graz. After about 20km turn right for Schladming West and then you will approach a roundabout. Turn right heading towards Rohrmoos. Alpine Club is 1km up the hill on the left hand side. The travel time should not take more than 2.5 - 3h depending on traffic flow. In winter, winter tyres and possibly snow chains will be necessary. When driving on the motorway in Austria you must display a Vignette. These are provided with Austrian hire cars but are available from petrol stations.
Taxi fare (one way): €350.00 (up to 4 persons) if booked via the resort. Please contact the resort for the taxi booking form. If not booked via the resort €450.00. Price correct on 20 February 2018.
Services & Amenities
Services & Amenities
Regional Activities
Austria is famous for its winter sports presence, but has appeal all year round with numerous hiking trails and a multitude outdoor activities. Take a day trip to the richly cultural capital city of Vienna for various museums and art galleries, or stay closer Schladming for a more traditional rural experience.
Nearby Activities
Bar/Cocktail Lounge
Bike Trails
Cycling/Bike Rental
Fishing
Fitness Center
Golf
Golf - Driving Range
Golf - Pro Shop
Golf - Putting Green
Hiking
Horseback Riding
Joanneum Museum
Mini Golf
Mountain Biking
Nightlife
Parks
Playground
Pool Tables
Restaurants
River Rafting
Shopping
Skiing - Cross Country
Skiing - Down Hill
Sleigh Rides
Snack Bar
Snowboarding
Solarium
Spa
Swimming
Tennis
Swimming
Details: Time slots are available. Pre-booking is required. Please ask at reception.
Heated pool (indoor)
Whirlpool (indoor)
Business Amenities
Copier
Wireless internet
On-site Services
Baby Accessories Catalogue
Coins operated dryer
Coins operated launderette
Cot
Currency Exchange
High chair
Housekeeping Service: On 4th, 8th, 11th and 15th night of yur stay.
Luggage Storage
Mail box
Massage Services
Parking On-Site
Public transport
Safes
Security
Shuttle Service
Ski Equipment Storage
Special Moments
Wi-Fi (complimentary)
On-site Activities
Activities Dept.
Fitness Center
Game Room
Gardens
Playground
Pool Table
Sauna
Table Tennis/Ping Pong
Tennis
Nearby Services - 5 Miles/8 Kilometers
Gift Shop
Hairdresser
Medical Facilities
Pharmacy
Religious services
Shops hours Monday - Friday 8:00 - 12:00 and 15:00 - 18:00 (some supermarkets are open all day from Monday - Friday till 19.30). Saturday 8:00 - 12:00 (some supermarkets until 18:00). Sunday and bank holidays all shops, supermarkets and banks, are closed. There is a small shop at the Turmöl and Jet petrol station.
Spa
News & Events
News & Events
Latest News

Covid-19: Restaurant Closed Until Further Notice
Please be aware that the restaurant is closed until further notice.

Face Covering Notice
We ask that Owners and Guests follow local and other applicable regulations as it relates to the use of face coverings and other health requirements.

Information About COVID-19 Vaccinations
Certain destinations may require proof of vaccination or a negative COVID-19 test for access to local restaurants, tourist spots and on-site amenities, such as gyms and other common areas. Additional local restrictions regarding capacity and crowd size may also be enforced. As this is an evolving situation, we highly recommend you become familiar with all applicable health and government mandates before you travel to understand any requirements or restrictions that may affect your vacation experience.

Building Works House II 4 October-5 November
Please be advised that building work will take place in House II from 4 October-5 November this year. During this period some noise can be expected and building workers and materials may be visible. We will make every attempt to keep disruption to a minimum. Please accept our apologies for any inconvenience this may cause.

Coronavirus (Covid-19): Ski Season Protocols
Austrian authorities have announced that Covid-19 protocols will be in place for the 2021-22 ski season which includes the mandatory use of face masks on enclosed ski lifts. In addition skiers will need to show proof of vaccination, a negative test result or that they have recovered from the virus when purchasing a lift pass. Customers may also need to show vaccination status when entering après-ski bars which have all be re-classified as nightclubs.

Coronavirus (Covid-19): Important Resort Specific Information
Pools and other amenities, such as gyms, will open as national, regional and local jurisdictions allow*, and following social distancing and sanitation guidelines. The hours of operations and delivery of on-site services may also be impacted. As such, services/facilities may differ from published information or be restricted. For the most recent status of services/facilities please go to Factsheet > You Need To Know > Coronavirus (Covid-19): Important Resort Specific Information.
*Some facilities at resorts may not open immediately even when conditions permit it.
Fact Sheet
Fact Sheet
Arrival Information
Check In/Out
24 Hour Reception
At Your Service (Optional): Wake up and start your day in the most nutritious way with our Good Morning Packs delivered to your accommodation. Whether early birds or sleepy heads, our breakfast packs are sure to keep the whole family sunny side up all day long! Please order in advance.
Check In Day: Every day.
Check in time: 16:00
Check out time: 10:00
Express Checkout
Hospitality Pack: Within your accommodations you will find a Diamond Resorts arrival hospitality pack consisting of tea bags, coffee and decaf sachets, sugar, salt and pepper, sweetener, and milk.
You Need To Know
Coronavirus (Covid-19): Important Resort Specific Information
- Temporarily reduced or closed services/facilities
- Check-in Guide
- Keeping Safe at Resorts
Prior to checking in:


Anti-Social Behaviour: Any anti-social behaviour that affects the family-friendly atmosphere of the resort will not be tolerated. The resort management reserves the right to refuse check in or terminate your stay were any guest(s) is displaying abusive or disruptive behaviour that could cause harm or a disturbance to other guests or resort staff including damage to the property or affecting the enjoyment of other guests. In the event such action is taken the resort management will have no further liability or obligation to you and no refunds will be given.

Due to the nature of our resorts, please note that they are not suitable or recommended for stag/bachelor, hen/bachelorette or similar parties.

Hotel Guests Only: Bookings of five or more rooms are subject to the group booking terms and conditions. Full payment must be made 30 days prior to the arrival date. No cancellations or refunds are permitted once booked. Due to COVID 19 restrictions, group bookings can only be processed if they adhere to regional or national rules and mandates.

For Hotel Guests only, the resort requires a valid credit card to charge a refundable security deposit of €100 per apartment upon check in. For Members of THE Club® the deposit is €0.01. Your deposit will be refunded at the end of your stay upon inspection of your apartment(s) however please note the funds will only appear in your account once processed by your financial institution.

Upon check in all guests occupying the unit including children must present a valid form of identification along with confirmation of your reservation.

Children under 18 are not permitted to stay in the accommodation unless accompanied by a parent or guardian. Under no circumstances can the maximum occupancy level be exceeded.

Late Arrival: If you intend to arrive later than midnight on your arrival date please notify the resort as soon as possible or your reservation will be deemed as a 'No show' and may be cancelled.

All apartments are self-catering. Sofa beds will not be made up on arrival. Apartments are not cleaned daily during your stay - a cleaning schedule will be provided upon check in.

Additional Charges: Meals and other extras are not included in the room price however they may be available to purchase at the resort.

Only registered guests are permitted to use the leisure facilities.

It is recommended you take out travel insurance for both domestic and international travel to cover you for any medical emergencies and/or loss incurred due to being unable to occupy your accommodation.

Special requests for specific apartment locations and views cannot be guaranteed. The hotel/resort will do try to accommodate your requests; however, they are based upon availability at the time of your apartment assignment at check-in.

Accessibility Requests: Please contact the property as soon as possible. Adapted units are assigned on a first come, first serve basis and are subject to availability.

The resort operates an on-going refurbishment programme. Refurbishments or building work may be taking place throughout the year. While the hotel/resort endeavours to keep noise and disruption to a minimum, there may be some disturbance. Some resort facilities may be withdrawn for routine maintenance or be subject to seasonal availability and provision of the facilities cannot be guaranteed. Please check the resort information page for any important resort notifications that may affect your stay.

Free Wi-Fi is available at the property.
Charges
Pet rules, charges and/or documentation: While guests are not allowed to bring pets to the resort, members of THE Club® at Diamond Resorts are permitted for a small daily charge (€7) as long as pet rules and regulations are signed and followed. Please make use of the dog station by the path outside the reception building.
Tourist tax: €1.50 per Adult (16+) per night.
Resort Details
Management
Resort Manager: Iuliana Gal
Phone
Rental Phone: +44(0) 800 358 6991
Resort/Hotel Size
Number of Accommodations: 68
Number of Floors: 6 floors in each building, 2 buildings connected through the pool building & walkway
Accessibility
Accessibility
Terrain
Level – flat. Resort located on a steep hill. The resort is located in a mountainous region and it is difficult for wheelchair users to access some local facilities; for example, the cable car.
Communal Areas
Most common areas are accessible for wheelchair users.
Reception Building
Accessed by 2 steps or ramp. Automatic doors. Lower desk for wheelchair users. Elevator/Lift to floors 1-5. Accessible toilet with handrails (1 flexible). Ski cellar not accessible by wheelchair.
Restaurant Building
Accessed by 2 steps or ramp. Automatic doors. Inside access through connecting walkway – one level. Elevator/Lift to floors 1-5. Fire doors on landings are manual. Restaurant entrance door is manual. Ski cellar accessible by elevator/lift.
Member Service Office/Games Room/Washing Machines and Dryers
Located in Restaurant Building and accessed by elevator.
Leisure Centre
On ground level, area only accessible with key card – wide steps to get into and out of the pool. Whirlpool with 3 steps..
Tennis Court and Children's Playground (open in summer only)
Accessible by wheelchair.
Parking
One designated accessible parking bay available in front of each building.
Accessible Accommodations
Partially Wheelchair Accessible Accommodation
Suitable for travellers with restricted walking ability who may need a wheelchair. Some areas within the accommodation and exterior are accessible. They have electric beds, adapted bathroom and special high backed chairs (kitchen units/work surfaces are standard height). We offer 1 accommodation in total: 1 one-bedroom accommodation.
Accessible Accommodation
Suitable for a person with sufficient mobility to climb a few steps, but who would benefit from fixtures and fittings to aid balance. We offer 18 accommodations in total: 1 studio, 9 one-bedroom accommodations and 8 two-bedroom accommodations.
Other Accommodation
Accommodations on the 6th floor are not reachable by elevator/lift. 2 ground floor two-bedroom elite accommodations are accessible by 3 steps and 3 two-bedroom elite accommodations have interior stairs. The bathroom doors have a width of only 60 cm and are mostly equipped with a bath-tub. We need notification of travelers with limited mobility or special requirements prior to check-in in order to allocate suitable accommodation. Accommodations cannot be booked directly at the resort only via Diamond Resorts as all the accommodations also belong to fixed week members.
Equipment Available (Upon Request)
Please follow the link below to our Accessibility Aid Catalogue with a wide range of complimentary items available to lend to members, owners and guests for your comfort during your stay (subject to availability).
Measurements for Equipment Available Upon Request
Reception building lift size: 80 cm wide, 98 cm long
Restaurant building life size: 80 cm wide, 107 cm long
Wheelchair: 42 cm wide (seat); weight limit 100 kg
Wet wheelchair: 45 cm wide (seat) and 51 cm high (seat); weight limit 100 kg
Shower chair: 32 cm wide (seat) and 46–63.5 cm high (adjustable seat); weight limit 100 kg
Bath seat: 45 x 30 cm (seat), 20 cm high; weight limit 80 kg
Accessibility Aid
Catalogue in
English Accessibility Aid
Catalogue in
German
Accessible Outings and Excursions
Excursion to Lake Styrian Bodensee
The crystal-clear mountain lake Styrian Bodensee is surrounded by some of the most beautiful summits of the Schladminger Tauern (for example, Hochwildstelle and Höchstein) and is one of the top destinations and most beautiful places in the Enns valley. The 4.5 km long, asphalted panoramic roads (toll road) lead over the Gössenberg into the Seewig valley to the Styrian Bodensee car park (1,143 m). You can easily park your car at the car park and there you find an easy, wheelchair accessible and scenic walk to the lake in about 15 min. Around the lake, leads a forest road and the whole walk takes approximately 50 minutes and the walk is possible for wheelchair users with guide. This path around the Lake Bodensee is an easy and very beautiful walk in an alpine landscape. At the foot of the towering mountains, you will enjoy the romantic mood. Also very impressive is the waterfall near to the Bodensee. Restaurant Forellenhof (famous for trout specialities) at the Lake Bodensee is accessible for wheelchair users and has a large terrace and an accessible toilet. You can reach this destination with your own car or by public bus. Please contact reception for the bus schedule.
Explore Planai Mountain
Those who like it quite comfortable on a hiking holiday, can take a walk on the panorama hiking trail on the summit of the famous Planai mountain in Schladming. Please use the car park in the parking house at Planai cable car station where you can find an elevator to get to the cable car. The cable car, is suitable for wheelchair users if they bring a foldable chair. The gondola will take you to the mountain station Planai, where the pushchair and wheelchair accessible path (with guide only) starts and circles the summit of the Planain in approximately 1 hour. The varied and almost flat circular route leads around the Planaigipfel and offers great views of the Enns Valley, the mountains of the Schladminger and Hohe Tauern mountains, the Dachstein and the Ramsau high plateau. Along the way, there are information boards about flora, fauna and interesting facts about the region, and the funny carvings are also worth seeing. After just a few meters you reach the idyllic "place of reflection" surrounded by breath taking scenery. A cozy alpine walk at 1,900 m above sea level - the natural experience changes with the seasons. Suitable for the whole family. Refreshments can be taken at "Planaihof": at entrance you will find a ramp for wheelchair users or a lift and an accessible terrace and toilet.
Proximity/Accessibility to Local Supermarkets/Shops/Etc.
Most supermarkets, shops, banks and restaurants/bars are partially (no lowered desks, not all products reachable from shelves, etc.) accessible for wheelchair users in Schladming, approximately 1 km from resort. Route not advisable on foot. 1 accessible public toilet 08.00 – 20:00 only.
Public Transport
Buses and taxis are not equipped to transport wheelchair users. Some trains are partially adapted for wheelchair users.
Haemodialysis Clinic Close to Resort
Klinik Diakonissen Schladming, 5 minutes by car
Appointments must be made prior to arrival direct with the hospital.
Address: 8970 Schladming, Salzburgerstraße 777
Telephone: 0043/3687/2020 – 6440.
E-mail:
dialyse.schladming@diakoniewerk.at
.
Meet the Resort Accessibility Ambassador
Our Resort Accessibility Ambassadors will assist you with any accessibility requirements prior to and during your stay to ensure it is trouble free.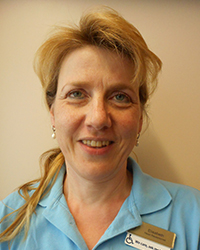 Elisabeth Resch
Elisabeth.Resch@diamondresorts.com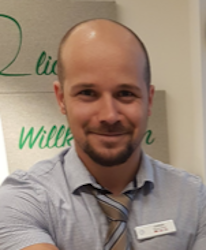 Barna Asztalos
Barna.Asztalos@diamondresorts.com
Accessibility Photo Gallery
Weather