Royal Oasis Club at Pueblo Quinta

To contact the resort, please call +34 952 56 34 79
Overview
Overview
Royal Oasis Club at Pueblo Quinta, Avenida Federico García Lorca, 8, Urb. Pueblo Quinta, Fase 2, 29630, Benalmádena, Costa del Sol, Málaga, Spain
Brilliant sunshine warms the outstretched beaches of Costa del Sol, beckoning beachcombers to bask in its moderate year-round temperatures and stunning natural beauty. Leisurely lounge oceanside and watch the rolling waves gently wash the Mediterranean coast, salting the shoreline and creating a symphony of soothing sounds. Steeped in history, Málaga boasts a rich culture and is host to many stunning monuments, ancient sites and beautiful architecture. This Spanish port city offers endless entertainment, a vivacious nightlife, shopping and exquisite dining, all located within paradise.
Reminiscent of a traditional Spanish pueblo blanco, or white village, Royal Oasis Club at Pueblo Quinta contrasts impressively with the hotel blocks typical of Costa del Sol. The bright, airy rooms are beautifully furnished, and most have balconies overlooking landscaped gardens, an outdoor pool and rolling green lawns that lead to the tranquil Mediterranean Sea.
Whether you crave exercise or relaxation, the fitness sauna and spa complex demands a visit, and the clubhouse provides a superb social venue from which to gaze out over the blue sea or enjoy a radiant sunset before your nighttime entertainment begins.
View Diamond Resorts Environmental Policy / Política Medioambiental
Experiences and Nearby Activities







Onsite Amenities and Activities
















Accommodations
Accommodations
Guest Accommodation Information
Photo Gallery
Maps, Directions & GPS
Maps, Directions & GPS
Avenida Federico García Lorca, 8
Urb. Pueblo Quinta, Fase 2
29630, Benalmádena, Costa del Sol, Málaga
Spain
+34 952 56 34 79
Directions
General
Alternate Directions: By train from the airport: From the baggage claim area follow the sign to the station. At the station you will find a ticket machine, please buy the ticket before you board the train, your station will be Benalmádena/Arroyo de la Miel. Once you have arrived in Benalmádena/Arroyo de la Miel, there is taxi rank on the right hand side as you walk out the station, where you can catch a taxi to the resort. The journey will be 5 to 10 minutes approximately and costs about €6.
Airports
Main Airport
Airport: Pablo Ruiz Picasso Airport
Directions to Resort: Take the airport exit road which will split into two lanes. Take the right hand lane which will be sign posted to Torremolinos. Stay on this road and DO NOT TAKE the Motorway (A7) even though this will say Benalmádena. It is far easier to stay on this road (N340) which will take you past Torremolinos. After approximately 6km you will reach a roundabout where there is a Repsol petrol station. Take the third exit (the petrol station will then be on your right). Follow this road until you reach a further roundabout where you can only go left or right. Take the right in the direction of Benalmádena Costa. Stay on this road for approximately 2km until you reach a roundabout with many small coloured windmills on it. At this roundabout turn right, on to Garcia Lorca Avenue and PUEBLO QUINTA RECEPTION is 100 meters on the right hand side (next to a chemist and opposite the entrance to the park).
Taxi fare (one way): Approx. €25 - €30.
Transfer service available: Yes
Services & Amenities
Services & Amenities
Regional Activities
Sun, sea and sand; from the ever-popular Costa del Sol, to her engaging islands in the Balearics and Canaries, it can sometimes seem as though Spain must surely have invented modern tourism. Culturally varied, you could spend a lifetime trying to experience every facet of life here. The food and wine is the equal of anything you will find in Europe but its long and vibrant history – embracing kings and queens, artists, great wars and even great explorers - sets Spain apart. Distance from Resort: Beach: 200 meters; Marina: 1.5 km; Shops: 300 meters; Supermarket: 200 meters
Nearby Activities
Beach
Beach Access
Boating/Sailing
Bowling Alley
Bowling Green
Casino
Clubhouse
Cycling/Bike Rental
Fishing
Fitness Center
French Boules
Game Room
Gardens
Golf
Golf - Driving Range
Golf - Pro Shop
Golf - Putting Green
Horseback Riding
Lake
Marina
Mini Golf
Movie Rentals
Museums
Nightlife
Parasailing
Parks
Playground
Pool Tables
Restaurants
Moped/Scooter Rentals
Scuba Diving/Snorkeling
Shopping
Snack Bar
Spa
Squash
Swimming
Tennis
Water Sports
Yoga
Zoo
Swimming
Whirlpool (indoor)
Outdoor Pool
Nearby Services - 5 Miles/8 Kilometers
ATM / Banking
Beauty Salon
Dry Cleaning
Gift Shop
Grocery
Hairdresser
Kennel: Mi Paraiso, Alhaurín de la Torre; 25km from resort.
Laundry Facilities
Pharmacy
Railway Station
Shops Hours vary depending on the type of shop and season. The opening hours range between 9:30-10:00 to 13:30-14:00 and from 16:30-17:00 to 20:30-21:00. Reception will be pleased to inform you of opening hours upon arrival.
On-site Activities
Activity Center
Clubhouse
Fitness Center
Gardens
Pool Table
Sauna
Steam Room
Business Amenities
Copier
Free High Speed Internet
News & Events
Dining
Dining
The restaurant is currently closed. Please ask at reception for local recommendations.
Restaurants and Lounges
No restaurant located on-site.
Fact Sheet
Fact Sheet
Arrival Information
Check In/Out
24 Hour Reception
At Your Service (Optional): Wake up and start your day in the most nutritious way with our Good Morning Packs delivered to your accommodation. Whether early birds or sleepy heads, our breakfast packs are sure to keep the whole family sunny side up all day long! Please order in advance.
Check In Day: Every day.
Check in time: 16:00
Check out time: 10:00
Express Checkout
Hospitality Pack: Within your accommodations you will find a Diamond Resorts arrival hospitality pack consisting of tea bags, coffee and decaf sachets, sugar, salt and pepper, sweetener, and milk.
You Need To Know
Non-Smoking Resort
Prior to checking in:

Anti-Social Behaviour: Management reserves the right to refuse check in or terminate your stay where any guest(s) is displaying behaviour that could cause harm or a disturbance to other guests or staff including damage to the property or affecting the enjoyment of guests. In this event resort management will have no further liability or obligation to you and no refunds will be given.

Please note that our resorts are not suitable or recommended for stag/bachelor, hen/bachelorette or similar parties.

Hotel Guests Only: Bookings of five or more rooms are subject to the group booking terms and conditions. Full payment must be made 30 days prior to arrival. No cancellations or refunds are permitted once booked. Due to COVID 19 restrictions, group bookings can only be processed if they adhere to regional or national rules and mandates.

For Hotel Guests only, the resort requires a valid credit card to charge a refundable security deposit of €100 per apartment upon check in. For Members of THE Club® the deposit is €0.01. Your deposit will be refunded at the end of your stay upon inspection of your apartment(s) however the funds will only appear in your account once processed by your financial institution.

Upon check in all guests occupying the unit (incl. children) must present a valid form of ID along with confirmation of your reservation.

Children under 18 are not permitted to stay in the accommodation unless accompanied by a parent or guardian. One child under 24 months old is included in the occupancy level for your apartment. Under no circumstances can the maximum occupancy be exceeded.

Late Arrival: If you intend to arrive later than midnight on your arrival date please notify the resort as soon as possible or your reservation will be deemed as a 'no show' and may be cancelled.

All apartments are self-catering. Sofa beds will not be made up on arrival. Apartments are not cleaned daily during your stay - a cleaning schedule will be provided upon check in.

Additional Charges: Meals and other extras (incl. use of facilities for Hotel Guests) are not included in the room price however they may be available to purchase at the resort.

Only registered guests are permitted to use the facilities.

We recommend you take out travel insurance to cover you for any medical emergencies and/or loss incurred due to being unable to occupy your accommodation.

Special requests for specific apartments cannot be guaranteed. The hotel/resort will try to accommodate your requests based upon availability at the time of your apartment assignment at check-in.

Accessibility Requests: Please contact the property as soon as possible. Adapted units are assigned on a first come, first serve basis and are subject to availability.

The resort operates an on-going refurbishment programme. While we endeavour to keep noise and disruption to a minimum, there may be some disturbance. Some facilities may be withdrawn and provision of the facilities cannot be guaranteed. Please check the resort page for any resort notifications that may affect your stay.

Version en español.
Resort Details
Management
Resort Manager: Rocío Parrondo
Phone
Rental Phone: +44(0) 800 358 6991
Resort/Hotel Size
Number of Accommodations: 56
Number of Floors: 4
Tourist Board Information
Tourist Board Beach resort (Speciality family). Two keys. RTA: A/MA/01169
Special Information
Energy Rating: View certificate / Calificación energética del edificio terminado
Highlights: Built in the traditional style of a Spanish white village, overlooking landscaped sub-tropical gardens, Royal Oasis Club at Pueblo Quinta contrasts impressively with the hotel blocks found in the region, and abounds with opportunities for relaxation in the sun and fun at night.
Accessibility
Accessibility
Terrain
Pueblo Quinta is built on a steep incline, which leads down to the sea this is approximately 100 metres from the resort. Within the resort the pathways are level however some areas of the resort are difficult to access with steps to access many areas.
Communal Areas
Reception
Accessed by 7 steps or ramp. There are automatic doors.
Bar/Restaurant
Two entrances (1) via slope and steps from outside resort (2) via steps from inside the resort. To gain access to the terrace of the restaurant there are steps or a ramp, as well as a side entrance with only 2 steps. The rest is fully accessible, including the toilet for wheelchair users.
Entertainment Center
Located in the restaurant (same as above).
Leisure Center
Can be accessed from the main entrance to the resort (gate), from where there is a ramp which leads to the outdoor swimming pool and Leisure Center.
Outdoor Pool
Pool hoist available.
Spa
Pool hoist available.
Swimming Pool Area
Accessed from garden with slopes and ramp. Swimming pool has no lifeguard on duty.
Parking
The resort does not have an accessible parking area. Public Parking is available on the street near the apartments. Parking is limited during July and August.
Accessible Accommodations
Partially Wheelchair Accessible Accommodation
Suitable for travellers with restricted walking ability who may need a wheelchair. Some areas within the accommodation and exterior are accessible. They have electric beds, adapted bathroom and special high backed chairs (kitchen units/work surfaces are standard height). We offer 2 accommodations in total: 1 one-bedroom and 1 two- bedroom accommodation.
Accessible Accommodation
Suitable for a person with sufficient mobility to climb a few steps, but who would benefit from fixtures and fittings to aid balance. We offer 9 accommodations in total: 6 one-bedroom and 2 two-bedroom accommodations.
Other Accommodation
Not all ground floor accommodation is suitable for guests with mobility impairments as there may be steps leading to the entrance, steps leading onto terrace/balcony and indeed other resort areas. There are varying levels and floors throughout the resort.
Equipment Available (Upon Request)
Please follow the link(s) below to our Accessibility Aid Catalogue with a wide range of complimentary items available to lend to members, owners and guests for your comfort during your stay (subject to availability).
Measurements for Equipment Available Upon Request
Pool hoists: Weight limit 130 kg
Wheelchair: 42 cm wide (seat); weight limit 120 kg
Wet wheelchair: 43 cm wide (seat) and 49 cm high (seat); weight limit 130 kg
Shower chair: 23 cm wide (seat) and adjustable in height; weight limit 130 kg
Accessibility Aid
Catalogue in
English Accessibility Aid
Catalogue in
Spanish
Accessible Outings and Excursions
Selwo Marina Benalmadena
An amazing park with a wonderful dolphins and sea lions demonstration. Selwo is an innovate park offering ways to approach and learn how to respect its fauna. The Selwo Marina's 3 objectives are: Discover, Learn and Have Fun. There is no public parking at Selwo Marina. Two public parking spaces are available in front of the park. Opening times: 01/03/2018 -15/01/2019. Entrance fee: 25€ approx. The Unique Experiences such as Encounter with Dolphins, VIP visit, Swimming with Sea Lions or Meet the Penguins are not accessible. Selwo Marina Benalmadena is 15km far from the resort, adapted transfer not included.
Bioparc Fuengirola
Bioparc Fuengirola is one of the best zoos in the world with more than 200 species in four habitats. Bioparc very faithfully recreated some of the most amazing tropical forests in the world: the island of Madagascar, Equatorial Africa, Southeast Asia and islands of Indo Pacific. Entrance fee: 20€ approx. Bioparc Fuengirola is accessible for people with reduced mobility and wheelchair users, easy access to all the facilities of the activities included with admission. Bioparc Fuengirola is 5km from the resort, adapted transfer not included.
Butterfly Park Benalmadena
In this spectacular Thai temple, you can walk amongst more than 1,500 exotic butterflies from around the world, flying freely in a tropical paradise between waterfalls and flowers. You will be able to observe how they are born, how they reproduce and enjoy learning many things about these wonderful insects. Entrance fee: 10€ approx. Butterfly Park Benalmadena is 15km from the resort, adapted transfer not included.
Spanish Night
An amazing Spanish horse show, a BBQ dinner and a genuine flamenco show. Free visit to the stables, terrace, bar, free minigolf. A familiar atmosphere that everyone will enjoy. Discover the magical Andalucia at "Cortijo el Cartujano". Entrance fee: 57€ approx. The parking available is located at a yellow sand field. If needed, the staff will ensure a parking space is available as near as possible to the main entrance. Open from 01/03/2018 to 31/10/2018. Space available for only one wheelchair for the equestrian and flamenco show. An adapted free bus service is available under request.
Thyssen Museum Malaga
The museum offers an outstanding programme of temporary exhibitions and educational and cultural activities, as well as playing a prominent role in the surrounding area and the city. It is equipped with modern facilities that make it easy and convenient to visit, such as café/restaurant, a gift shop/bookshop and audio-guides in five languages. Throughout more than 250 works, the museum provides a tour of the main genres of Spanish painting of the 1800s and early 1900s, as well as a selection of Old Masters, particularly Zurbarán. Nineteenth-century Andalusian painting, folklore and popular music are especially well represented in its holdings, which include works by great artists such as Sorolla, Fortuny, Romero de Torres and Zuloaga. Entrance fee: 6€ approx. Free admission for people with disabilities with valid identification. The museum offers its visitors a tour with audio guide that lasts approximately one hour. During this tour, visitors can listen to explanatory comments covering a selection of the most representative artworks in the Collection. Available in Spanish, English, French, German, Italian, Danish and Japanese. No animals, except guide dogs. Malaga is 30km from the resort, adapted transfer not included.
Sealife Benalmadena
Over 2,000 amazing creatures, a great variety of sharks, the skeleton of a Plesiosaur and the first Jurassic fossil found in Spain. Entrance fee is 12€ approx. At the aquarium, they have disabled access throughout the centre. Sealife Benalmadena is 15km from the resort, adapted transfer not included.
Picasso Museum Málaga
The Picasso Museum is a key reference for understanding the formative years of Pablo Picasso. The genius of the young artist is revealed through the 4,251 works that make up the permanent collection. Furthermore the Picasso Museum, which opened in 1963, also reveals his deep relationship with Barcelona: an intimate, solid relationship that was shaped in his adolescence and youth, and continued until his death. Entrance fee: 7€ approx. Free admission for people with disabilities with valid identification. Audio guide service is included in the entrance fee in ten languages for the permanent collection (Arabic, Chinese, English, French, German, Italian, Japanese, Portuguese, Russian and Spanish) and two for temporary exhibitions (English and Spanish). In cases where admission is free, there will be a charge for this service of 1€. Magnetic loop system available. Malaga is 30km from the resort, adapted transfer not included.
Cable Car
Mountain Top View. The Cable Car, is suitable for wheelchair users if they bring a foldable chair, which are the only ones that fit in the cabin. At the top of the mountain, not all pathways are adapted for wheelchair use, as being a mountain pathway.
VDT Gibraltar + Cordoba + Seville
Places of Interest / Guided Tour. Available only for people with partial mobility, as they need to climb some stairs to get into the bus. The company reserves first row seats for people with partial mobility. They keep the wheelchair in the bus storage compartment (no specific place in the bus for it).
Rangers Safari Tours
Places of Interest / Guided Tour. The journey is made in a jeep where you stay seated at all times. There is no storage for wheelchairs once in the jeep. Wheelchairs are kept in reception office.
Proximity/Accessibility to Local Supermarkets/Shops/Beach
Resort is centrally located - steep slopes nearby – access ramps to beach. There are many bars and restaurants within easy walking distance of the resort.
Santa Ana Beach, Benalmadena Costa
Ramps for wheelchair users. Also especially adapted buggies available to take people to the water's edge. Adapted restroom/toilet (only available in high season).
Public Transport
Public transport is not always wheelchair accessible. (The new modern buses are all wheelchair accessible). Taxis can be booked at Reception and adapted vehicles can be requested.
Haemodialysis Clinic Close to Resort
Xanit Hospital, 3 km from resort
Doctor Rafael Franquelo: appointment and patient's doctor's prescription required.
Address: Camino de Gilabert s/n. 29630 Benalmádena
Telephone: +34 952 367179
Meet the Resort Accessibility Ambassador
Our Resort Accessibility Ambassadors will assist you with any accessibility requirements prior to and during your stay to ensure it is trouble free.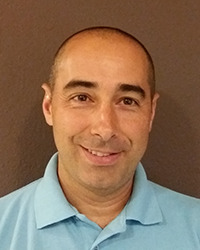 Jose Antonio Arana
Jose.Arana@diamondresorts.com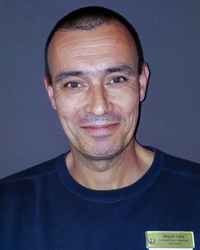 Miguel Lara
Miguel.Lara@diamondresorts.com
Accessibility Ambassadors will be wearing this distinctive badge:

We care, ask me how.
Accessibility Photo Gallery
Weather
Destination Guide
Destination Guide