Thurnham Hall

To contact the resort, please call +44 (0) 1524 751766
Overview
Overview
Thurnham Hall, Thurnham, Lancashire, England, Lancashire, LA2 0DT, United Kingdom
From timeless castles to historic parishes, grim tales of witch hunts and proud legends of bravery, Lancaster displays a rich heritage bursting with culture and intrigue. This university town offers museums, galleries, libraries and beautiful architecture for exploration. Visit the Maritime Museum and discover a nautical history of whaling, fishing and adventures at sea. Explore the magnificent structural design of Shire Hall or venture down Pendle Witch Trail, the very same path traveled by those sent to trial for witchcraft in 1612.
A vision of English countryside beauty, Thurnham Hall proudly overlooks a stunning estate of nearly 30 acres of charming green pastures. Boasting an elegant Jacobean Great Hall, this 12th-century country house combines its historic establishment with the modern comforts of convenience. With a fully-equipped kitchen, spacious living arrangements and comfortable furnishings, Thurnham Hall offers all the making of a home-away-from-home. Whether you prefer traditional accommodations in Thurnham Hall, the main house, or the more modern Thurnham Hall Tarnbrook, you'll enjoy a quiet retreat at this grand medieval-style estate.
View Diamond Resorts Environmental Policy
Experiences and Nearby Activities










Onsite Amenities and Activities
















Accommodations
Accommodations
Guest Accommodation Information
Photo Gallery
Maps, Directions & GPS
Maps, Directions & GPS
Thurnham
Lancashire, England, Lancashire
LA2 0DT
United Kingdom
+44 (0) 1524 751766
Directions
General
Alternate Directions: There is a direct line rail network from Manchester Airport to Lancaster City Centre. From Lancaster train station you can either take the bus directly to Thurnham Hall Gates or a taxi. The journey from Lancaster is approx. four miles.
Airports
Main Airport
Airport: Manchester Airport
Directions to Resort: (From Manchester airport, 60 miles away) Follow signs for the M6 North / Preston / Lancaster. Join the motorway and simply stay on until you reach junction 33. Exit here and follow signs for the A6 Garstang / Cockerham. After approximately 1 mile, take a right at a crossroads (signposted Cockerham) where there is a large beige house. Continue along the country lane for approximately 1.5 miles. Turn right at a T-junction at the end of the lane. Carry on to the T-junction and turn right at the Manor Inn public house. Continue for approximately 1.5 miles until you see a row of five terraced cottages on a sharp right and left hand bend. Begin to indicate right at this point and turn right into our driveway just before the red brick house.
Secondary Airport
Airport: Liverpool John Lennon Airport
Directions to Resort: (From Liverpool airport) Follow signs for M6 North and M62 Manchester. Join the M62 and carry on until you see signs for M6 North (Preston). Join the M6. Exit at junction 33 and follow signs for the A6 Garstang / Cockerham. After approximately 1 mile, take a right at crossroads (signposted Cockerham) where there is a large beige house. Continue along the country lane for approximately 1.5 miles. Turn right at a T-junction at the end of the lane. Carry on to the T-junction and turn right at the Manor Inn public house. Continue for approximately 1.5 miles until you see a row of five terraced cottages on a sharp right and left hand bend. Begin to indicate right at this point and turn right into our driveway just before the red brick house.
Services & Amenities
Services & Amenities
Regional Activities
Britain's rich history and natural beauty make short breaks and longer stays abundant with memorable moments. Vibrant cities, picturesque villages and traditional pubs, world-famous museums and galleries, rolling hills and stirring mountain peaks embody these islands. Wherever you go you are sure to be greeted with warm hospitality, from the stirring highlands and lochs in the north to the beautiful south coast, the United Kingdom is full of surprises. Distance from Resort: Beach: 31.9 km; Marina: 3.7 km; Shops: 9 km; Supermarket: 6.9 km
Nearby Activities
Bike Trails
Boating/Sailing
Bowling Alley
Bowling Green
Cinema
Fitness Center
Gardens
Golf
Golf - Driving Range
Golf - Pro Shop
Hiking
Horseback Riding
Marina
Mini Golf
Mountain Biking
Museums
Nightlife
Parks
Playground
Pool Tables
Restaurants
Moped/Scooter Rentals
Shopping
Squash
Tennis
Theatre
Nearby Services - 5 Miles/8 Kilometers
ATM / Banking
Car Rental
Currency Exchange
Dry Cleaning
Gift Shop
Hairdresser
Medical Facilities
Pharmacy
Railway Station
Religious services
Supermarket
Transfer Service
Wedding Facilities
Swimming
Indoor Heated Pool
Whirlpool (indoor)
On-site Activities
Activity Center
Fishing
Fitness Center
Gardens
Petanque
Picnic Area
Playground
Sauna
Spa
Table Tennis/Ping Pong
Business Amenities
Copier
Event Facilities
Fax
Free High Speed Internet
Meeting Rooms
News & Events
News & Events
Latest News

ACTIVITIES CANCELLED
In accordance with government advice around Covid-19, all activities are cancelled until further notice.

Restaurant and Bar Closed Until Further Notice
Unfortunately our restaurant and bar are currently closed until further notice. Please accept our apologies for any inconvenience this may cause. Please contact reception for more information about alternative places to eat and drink on the local area.
Fact Sheet
Fact Sheet
Arrival Information
Check In/Out
24 Hour Reception
At Your Service (Optional): Wake up and start your day in the most nutritious way with our Good Morning Packs delivered to your accommodation. Whether early birds or sleepy heads, our breakfast packs are sure to keep the whole family sunny side up all day long! Please order in advance.
Check In Day: Every day.
Check in time: 16:00
Check out time: 10:00
Express Checkout
Hospitality Pack: Within your accommodations you will find a Diamond Resorts arrival hospitality pack consisting of tea bags, coffee and decaf sachets, sugar, salt and pepper, sweetener, and milk.
You Need To Know
Non-Smoking Resort
Prior to checking in:


Anti-Social Behaviour: Any anti-social behaviour that affects the family-friendly atmosphere of the resort will not be tolerated. Resort management reserves the right to refuse check in or terminate your stay were any guest(s) is displaying abusive or disruptive behaviour that could cause harm or a disturbance to other guests or staff including damage to the property or affecting the enjoyment of guests. In the event such action is taken, resort management will have no further liability or obligation to you and no refunds will be given.

Due to the nature of our resorts, please note that they are not suitable or recommended for stag/bachelor, hen/bachelorette or similar parties.

Hotel Guests Only: Bookings of five or more rooms are subject to the group booking terms and conditions. Full payment must be made 30 days prior to the arrival date. No cancellations or refunds are permitted once booked. Due to COVID 19 restrictions, group bookings can only be processed if they adhere to regional or national rules and mandates.

For Hotel Guests only, the resort requires a valid credit card to charge a refundable security deposit of £100 per apartment upon check in. For Members of THE Club® the deposit is £0.01. Your deposit will be refunded at the end of your stay upon inspection of your apartment(s) however please note the funds will only appear in your account once processed by your financial institution.

Upon check in all guests occupying the unit (incl. children) must present a valid form of ID along with confirmation of your reservation.

Children under 18 are not permitted to stay in the accommodation unless accompanied by a parent or guardian. One child under 24 months old is included in the occupancy level for your apartment. Under no circumstances can the maximum occupancy level be exceeded.

Late Arrival: If you intend to arrive later than midnight on your arrival date please notify the resort as soon as possible or your reservation will be deemed as a 'no show' and may be cancelled.

All apartments are self-catering. Sofa beds will not be made up on arrival. Apartments are not cleaned daily during your stay - a cleaning schedule will be provided upon check in.

Special requests for specific apartment locations and views cannot be guaranteed. The hotel/resort will do try to accommodate your requests; however, they are based upon availability at the time of your apartment assignment at check-in.

Pets not allowed (except assistance dogs). BBQs are not permitted onsite. Free Wi-Fi is available at the property.
Charges
Pet rules, charges and/or documentation: No pets except service dogs.
Resort Details
Management
Resort Manager: Lee Ellins
Phone
Rental Phone: +44(0) 800 358 6991
Resort/Hotel Size
Number of Accommodations: 60
Number of Floors: The resort is made up of the main house which has studios, 1 and 2 bed apartments within. The house is ground, first and second floor levels. There is no lift. The rest of the apartments vary greatly but none are really up that many stairs - some have internal split levels but staff on the resort can assist with any queries on specific units and stair features.
Accessibility
Accessibility
Terrain
The resort is fairly level although some pathways are uneven and gravel based. The ground is not entirely flat and there are some inclines. Areas with vehicular access have speed bumps. All steps have highlighted step edges.
Communal Areas
Reception
Ground floor, one level.
Bar/Restaurant
Ground floor - one step small step from the outside to the interior, easy to manage.
Library
Accessed via steps from bar although a ramp can be provided.
Chapel
Accessed via six steps via library – no ramp available.
Leisure Centre
Ground floor, automatic doors, one level, accessible changing room with panic alarm, handrails to pool one step to the spa, pool hoist.
Parking
The resort has 5 accessible parking bays: two in the main car park, two near Tarnbrook, and one in Woodland View. Parking bays in Tarnbrook are allocated to the wheelchair accessible apartments. Loading/unloading can be carried out directly outside the front door of the main house. And in case of need, there is always someone to assist. None of the accessible parking bays are located directly outside the accommodation.
Accessible Accommodations
Fully Wheelchair Accessible Accommodation
All areas within the accommodation and exterior are accessible to a wheelchair user or a guest with a severe reduced mobility. They have electric beds, adapted bathrooms, special high backed chairs and kitchen unit/work surfaces are lowered or can be pulled out for ease of access for wheelchair users.
We offer two accommodations in total: 2 two-bedroom accommodations.
Partially Wheelchair Accessible Accommodation
Suitable for travellers with restricted walking ability who may need a wheelchair. Some areas within the accommodation and exterior are accessible. They have electric beds, adapted bathroom and special high backed chairs (kitchen units/work surfaces are standard height).
We offer one accommodation in total: 1 two-bedroom accommodation.
All Accommodation
All accommodation has a variety of approaches and entrances including steps, ramps and uneven surfaces. Some accommodation are duplexes with an internal staircase.
Equipment Available (Upon Request)
Please follow the link(s) below to our Accessibility Aid Catalogue with a wide range of complimentary items available to lend to members, owners and guests for your comfort during your stay (subject to availability).
Measurements for Equipment Available Upon Request
Pool hoist: Weight limit 140 kg
Wheelchair: Seat 40 cm wide; weight limit 136 kg
Wet wheelchair: Seat 51 cm high and 48 cm wide; weight limit 136 kg
Shower chair: Adjustable in height, 33 cm diameter; weight limit 190 kg
Accessible Outings and Excursions
Williamsons Park
This is not a guided excursion but a great close by place to visit with all the family. Car parking facilities are found in different areas of the park to enable access to all the different parts of it. For instance there is a car park at the top of the park, making access easy for the Ashton Memorial, the café and the butterfly house. There are adapted toilet facilities placed all around the park. The terrain around the park is mostly tarmac making it easier for wheelchair users. There are double door entry spots to all the indoor facilities, including the butterfly house and the café. For access to the Ashton Memorial there is a wheelchair accessible lift to the right hand side of the memorial, with a "call for attention" button to operate the lift. Assistance dogs are welcome within the park. Unfortunately the park does not offer anything in particular to assist with the hearing impaired. Café staff as well as groundsmen are always around to give a helping hand when needed. No parking bay reserved for wheelchair access however there are amble parking spots with large bays.
Lancaster Canal Boats
This is not a guided excursion but a great activity to do with all the family. The Lancaster Canal is easily accessible by all with plenty of car parking along the different points of interest, all with slopes down to the canal path. There is a more accessible Canal Boat on the Lancaster canal, used for excursions. Galgate marina has a lift chair making access onto the canal boat very accessible. The adapted canal boat is a wider boat with specially fitted toilet facilities including an adapted shower and lowered beds if needed for a longer journey. Assistance dogs are welcome on the canal boats. The canal tours do offer an interpreter for the hearing impaired as long as it is booked in advance. Staff at the marina as well as on the canal boat are always able to assist guests. There are reserved spaces for wheelchair users at Galgate Marina.
Barton Grange Garden Centre
This is not a guided excursion but a great close by place to visit with all the family. Plenty of car parking for less able customers is found at the front of the garden centre. Wheelchairs and mobility scooters are also available to borrow from the garden centre, free of charge. There are adapted toilet facilities in the main entrance as well as adapted toilet facilities within the restaurant/cafe. With the small exception of a small decking area outside the cafe, the garden centre has no steps making it very accessible for all. Even the outdoor plant area is fully covered, so that it can be explored whatever the weather. Widened isles have been created throughout the entire Garden Centre to accommodate assisted wheelchair users. With the widened isles as well as zero steps throughout the garden centre, Barton Grange is fully accessible for independent wheelchair users. Assistance dogs are welcome within the Garden Centre. They currently do not have anything installed to assist with the hearing impaired however are looking to install some induction loops into the store. Reserved accessible parking bay available.
Proximity/Accessibility to Local Supermarkets/Shops/Etc.
Local garden centre, all local supermarkets are accessible, downtown Lancaster shops are accessible.
Public Transport
We can provide taxis that are accessible for the guests.
Haemodialysis Clinic Close to Resort
Royal Preston Hospital, approximately 20 miles from resort
Address: Sharoe Green Lane, Fulwood, Preston, Lancashire, PR2 9HT
Telephone: 01772 522755; Holiday Dialysis Enquiries - 01772 522745
Meet the Resort Accessibility Ambassador
Our Resort Accessibility Ambassadors will assist you with any accessibility requirements prior to and during your stay to ensure it is trouble free.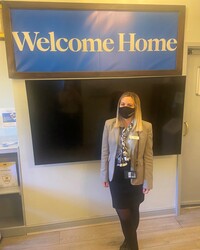 Danielle Moorby
Danielle.Moorby@diamondresorts.com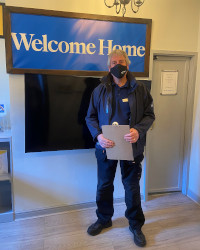 Ian Parkinson
Ian.Parkinson@diamondresorts.com
Accessibility Ambassadors will be wearing this distinctive badge:

We care, ask me how.
Accessibility Photo Gallery
Weather