Vilar do Golf

To contact the resort, please call +351 289 352 000
Overview
Overview
Vilar do Golf, Quinta Do Lago, Almancil, 8135903, Algarve, Portugal
Important Resort Specific Information about Coronavirus (Covid-19): For the latest updates please go to Fact Sheet > You Need To Know
Promising 300 days of quintessential sunshine, Quinta do Lago—located on the southern coast of Portugal— is one of Europe's most wonderful destinations, boasting more than 2,000 acres of verdant countryside where the sweet aroma of centuries-old pine forests meets the Atlantic Ocean. An increasingly popular tourist hot spot, golfers, water sport enthusiasts and sunbathers all flock to the warm and radiant temperatures of the Algarve. Explore the boutiques and restaurants, or venture to the outskirts of Almancil and discover the Church of Sao Lourenco, beautifully adorned with glazed blue tiles (azulejo) tiles.
Nestled peacefully amid lush gardens, Vilar do Golf sits in the heart of the Quinta do Lago estate, beckoning travelers to escape to its quiet and stylish accommodations. Offering substantial space and modern appointments, the resort is a comfortable retreat, ideal for a romantic getaway or a family vacation. Enjoy the superb leisure and sports facilities, championship golf courses, two restaurants and nearby nightclubs, all skirted by miles of golden sand.
View Diamond Resorts Environmental Policy / Política Ambiental
Experiences and Nearby Activities










Onsite Amenities and Activities



















Accommodations
Accommodations
Guest Accommodation Information
Photo Gallery
Maps, Directions & GPS
Maps, Directions & GPS
Quinta Do Lago
Almancil
8135903, Algarve, Portugal
+351 289 352 000
Directions
General
Driving: Driving from Spain (your journey will take approximately 1 hour): passing the bridge (border) you'll reach the A22 road. Continue on this road (around 45km) and take the exit to Almancil. Passing Almancil roundabout, take the 1st turn left and then the 1st right. Take the left fork at the junction signposted "Quinta do Lago". This road takes you to Quinta do Lago roundabout with a "Q" in the centre. Go through the estate entrance and continue until you reach roundabout number 4 where you will find Vilar do Golf on the right hand side. GPS Co-ordinates are as follows: Lat. = 37.043446 / Lon. = -8.018496.
Airports
Main Airport
Airport: Faro Airport
Distance to Resort: 20km (30 minutes)
Directions to Resort: Take the airport exit road, continue on this road and turn right 2nd exit to Portimão/Lisboa/Loulé, then follow the signs for Portimão (not Faro) onto the EN125. Continue on this road for a further 4.8km and take the first exit road sign posted "Almancil" (EN125). Travel for approximately 4 or 5km and take the next exit road for Almancil, 250 meters after S.Lourenço Church.
Continue into the centre of Almancil and turn the 1st left after the roundabout. Take the 1st turn left and then the 1st right. Take the left fork at the junction sign posted "Quinta do Lago". This road takes you to Quinta do Lago roundabout with a "Q" central feature, go through the estate entrance and continue until you reach roundabout number 4 where you will find Vilar do Golf on the right hand side.
Please note that the traffic in Almancil centre is being diverted due to road works. Please follow the signs.
Taxi fare (one way): Approx. €30
Transfer service available: Yes
Services & Amenities
Services & Amenities
Regional Activities
Sandwiched between Spain and the Atlantic Ocean, Portugal has always displayed something of an idiosyncratic personality. Famous for its Port, football and beaches, Portuguese explorers such as Vasco da Gama charted the world we now know. From the rich valleys of the Douro and the impressive architecture of Lisbon, down to the warm beaches of the Algarve, Portugal remains at once familiar and yet elusive. Distance from Resort: Beach: 2 km; Marina: 10 km; Shops: 2 km; Supermarket: On-site
Nearby Activities
Beach
Beach Access
Bike Trails
Boating/Sailing
Casino
Cinema
Fishing
Gardens
Golf
Golf - Driving Range
Golf - Pro Shop
Golf - Putting Green
Horseback Riding
Jet Ski Rentals
Lake
Marina
Mini Golf
Mountain Biking
Movie Rentals
Museums
Nightlife
Parasailing
Parks
Restaurants
Moped/Scooter Rentals
Scuba Diving/Snorkeling
Shopping
Snack Bar
Squash
Tennis
Theatre
Water Sports
Whale Watching
Windsurfing
On-site Activities
Activity Center
Aquarobics
Badminton
Basketball
Bike Trails
Cycling/Bike Rental
Fitness Center
Gardens
Petanque
Playground
Pool Table
Poolside Bar
Sauna
Scooter / Moped Rentals
Snack Bars
Table Tennis/Ping Pong
Volleyball
Business Amenities
Audio / Visual Equipment
Conference Facilities
Copier
Event Facilities
Fax
Free High Speed Internet
Meeting Rooms
Nearby Services - 5 Miles/8 Kilometers
ATM / Banking
Gift Shop
Kennel: Loulé, Monte Verde, 00351 289 413 113; 8km from resort.
Pharmacy
Railway Station
Religious services
Shops Hours from 9:00 to 19:00 in most towns, closing for lunch from approximately 13:00 until 15:00.
Swimming
Indoor Heated Pool
Whirlpool (indoor)
Outdoor Children's Pool
Outdoor Heated Pool
News & Events
News & Events
Latest News
Compulsory Swim Caps
Please note that it is compulsory to wear swim caps in the indoor pool. Please ask at reception for more details including where to purchase.
Dining
Dining
ILVero is the new Italian restaurant located at Vilar do Golf. Featuring a mouthwatering range of delicious food and a special pizza menu, ILVero promises a taste of Italy in a relaxed and stylish environment.
Opening Times: Every day except Sunday 6pm to 11pm.
NOA CAFÉ, located next to reception, overlooks the magnificent Quinta do Lago Golf Course. Open for breakfast and lunch, it offers a balanced menu, rich in flavour and freshness, ideal for those looking for a home-made, light and healthy meal. For lovers of good coffee or natural juices, NOA Cafe is the best choice!
Opening Times: Daily from 8.30am to 4pm.
BAO offers tempting Asian insipired dishes including rice, noodles and curries.
Opening Times: Temporarily Closed.
All Food & Beverage outlets at this resort are operated by third parties, not Diamond Resorts.

Restaurants & Lounges
Bar/Cocktail Lounge
Cafe/Coffee Shop or Service
Grocery
Poolside Bar
Take away service
Fact Sheet
Fact Sheet
Arrival Information
Check In/Out
24 Hour Reception
At Your Service (Optional): Wake up and start your day in the most nutritious way with our Good Morning Packs delivered to your accommodation. Whether early birds or sleepy heads, our breakfast packs are sure to keep the whole family sunny side up all day long! Please order in advance.
Check In Day: Every day.
Check in time: 16:00
Check out time: 10:00
Express Checkout
Hospitality Pack: Within your accommodations you will find a Diamond Resorts arrival hospitality pack consisting of tea bags, coffee and decaf sachets, sugar, salt and pepper, sweetener, and milk.
You Need To Know
Coronavirus (Covid-19): Important Resort Specific Information

For the latest applicable information regarding entry requirements to Portugal (and requirements once in the country) please visit https://www.visitportugal.com/en/content/covid-19-measures-implemented-portugal

- Temporarily reduced or closed services/facilities
- General information
- Informação geral
- Check-in Guide
- Keeping Safe at Resorts
Prior to checking in:

For the latest applicable information regarding entry requirements to Portugal (and requirements once in the country) please visit https://www.visitportugal.com/en/content/covid-19-measures-implemented-portugal

Please help us to make your check in as efficient as possible by advising us in advance of your flight details and arrival time. The nearest town (Almancil) is located 6km away from the resort. Please be advised that pets are not allowed on-site (except guide dogs). There is a limited scheduled public bus; therefore we recommend that you hire a car.

Hotel Guests Group Booking Policy
Please note – hen/bachelorette and stag/bachelor party bookings will not be accepted. The resort applies this policy strictly. Should a reservation be made for guests in a hen/bachelorette or stag/bachelor party, the party will not be able to check-in and will not receive a refund. Should your conduct or that of any of your party during the course of your stay give resort management cause for concern, an additional payment of €1000 will be required by way of security deposit. This deposit will be refunded to you in full at the end of your stay provided that no damage has been caused. In serious cases, the resort reserves the right to evict guests whose anti-social behaviour affects the family-friendly atmosphere of the resort. When booking 5 rooms or more, different policies and additional supplements may apply. Please contact the resort in advance for further details. Due to COVID 19 restrictions, group bookings can only be processed if they adhere to regional or national rules and mandates.

Late Arrival
If you intend to arrive later than the check in date/time stated please notify the resort as soon as possible. Accommodation will only be held for 24 hours after the arranged check in time unless the resort has been notified of your late arrival.

Please note that Portuguese rules and regulations requires us to provide a link to the following public services website: https://www.livroreclamacoes.pt/

Occupancy
Children under 18 are not permitted to stay in the accommodation unless accompanied by a parent or guardian. One child under 24 months old is included in the occupancy level for your apartment. Under no circumstances must the maximum occupancy level be exceeded.
When checking in: Please provide your confirmation letter, picture identification and/or passport as required. All guests must present their passport as a police form needs to be completed. Hotel guests are required to pay a refundable security deposit of €100 per apartment upon arrival. This deposit is obligatory and must be paid with a valid debit or credit card. Please note that cash is not accepted. Guests who are unable to provide the deposit will not gain entry to the apartment. Please note that we have a porter service available on check-in day.
Resort Details
Management
Resort Manager: Luis Catarino
Phone
Rental Phone: +44(0) 800 358 6991
Resort/Hotel Size
Number of Accommodations: 181
Number of Floors: Villas
Tourist Board Information
Tourist Board A

*

*

*

*

License nº0892
Special Information
Highlights: Superbly located amid landscaped gardens, Vilar do Golf was created for those who love to relax in a natural environment. As its name suggests, Vilar do Golf is a golfer's paradise being located on 18 hole championship golf courses of Quinta do Lago, in the Ria Formosa Nature reserve.
Accessibility
Accessibility
Terrain
The resort is positioned on a hill with various gradients and inclines around the site. Access ramps have been adapted to assist wheelchair on the entrance to the pool and when accessing reception, supermarket and NOA Cafe.
Communal Areas
Reception
Accessible by ramp. Lowered Reception desk. Automatic doors. Accessible toilet. Induction loop.
Bar/Restaurant/Entertainment
Accessible by ramp/steps. Accessible toilet.
Entertainment
Pool activities area on one level which is accessed by ramp.
Kids CLub
Accessed by steps. No ramp available.
Gymnasium
Accessed by steps. No ramp available.
Games Room
Accessed by two steps. No ramp available.
Swimming Pool Area
Accessible and on one level.
Indoor Pool
Accessed by ramp and lift. Accessible bathroom.
Outdoor Pool
Accessible and on one level.
Supermarket
Street level, easily accessible and accessed by ramp.
Medical Center
Located in reception, easily accessible.
SPA Center
Accessed by one step. Portable ramp available.
Flower Shop
Accessed by two steps. No ramp available.
Parking
Designated accessible parking spaces are available outside reception, restaurant and pool area. Wheelchair accessible accommodation has allocated parking space near to accommodation.
Accessible Accommodations
Partially Wheelchair Accessible Accommodation
Suitable for travellers with restricted walking ability who may need a wheelchair. Some areas within the accommodation and exterior are accessible. They have electric beds, adapted bathroom and special high backed chairs (kitchen units/work surfaces are standard height).
We offer 1 accommodation in total: 1 one-bedroom accommodation.
Other Accommodation
One-bed accommodation: Two units are at street level with small step to entrance, one level throughout. Two units are located on the first floor.
Two-bed accommodation: All units are at street level with small step at entrance. All units are on two levels, living areas downstairs and bedroom and bathrooms upstairs.
Equipment Available (Upon Request)
Please follow the link(s) below to our Accessibility Aid Catalogue with a wide range of complimentary items available to lend to members, owners and guests for your comfort during your stay (subject to availability).
Measurements for Equipment Available Upon Request
Pool hoists: Indoor pool weight limit 150 kg; outdoor pool weight limit 150 kg
Wheelchair: 47 cm wide (seat); weight limit 100 kg
Wet wheelchair: 47 cm wide (seat) and 50 cm high (seat); weight limit 100 kg
Shower seat: 38 cm wide (seat); weight limit 120 kg
Accessibility Aid
Catalogue in
English Accessibility Aid
Catalogue in
Portuguese
Accessible Outings and Excursions
Zoo Marine
The big attractions at Zoo Marine are the spectacular presentations. The dolphins are perennial favourites, with a breath-taking demonstration of the dolphins' agility, intelligence and the special bond they have with their trainers. The Wonderful World presentation features seals and sea lions, sailors and lost treasure. This show gets lots of laughs from the audience and is definitely one that the kids will enjoy. The Enchanted Forest presentation with tropical birds is entertaining while at the same time promoting environmental awareness – always a priority at Zoo Marine. The birds of prey presentation is dramatic and awe-inspiring, and allows you to get closer to these majestic creatures than you ever thought possible. Ramps, bathrooms adapted and wheelchair available.
Slide & Splash
Slide and Splash is one of the leading Algarve attractions and should be on your list of things to do in Portugal. It's a day of sliding down the Kamikaze or the Black Hole and splashing in the Olympic-sized pool. The park is good for children of all ages, particularly excellent for the little ones. Ramps, bathrooms adapted and wheelchair available.
Aqua Show
Aqua Show family park is set in large grounds with plenty of grassy shaded areas for relaxing. There are several kid's play areas with slides and swings scattered throughout the park. One of the most popular attractions is the large wave pool, good for adults and kids. The children have a well-equipped pool area with lots of slides and tunnels and some of the larger curving slides are good for children too. Ramps, bathrooms adapted and wave pool access.
Boat Trips in Vilamoura Area
Catamarans with wheelchair facilities and marina entrance accessible.
Proximity/Accessibility to Local Supermarkets/Shops/Beach
The nearest fully accessible beach is Quarteira which is located 10 km from resort.
Quinta do Lago is accessible.
Quinta Shopping Centre is accessible and is located 3 km from resort.
Public Transport
Public transport is not adapted however an adapted taxi or minibus can be booked at the resort reception.
Haemodialysis Clinic Close to Resort
Hospital Distrital de Faro, distance from resort 20 km
Unidade de Hemodiálise - Serviço Nefrologia Rua Leão Penedo 8000-386 FARO.
Telephone: 00351 289 891 220
E-mail: secnefrologia@hdfaro.min-saude.pt
Fresenius Medical Care N.M.C., distance from the resort 20 km
Centro Médico Nacional, Parques das Amoreiras II, Lote B 8000-000 FARO.
Telephone: 00351 289 889 870 / 878
Meet the Resort Accessibility Ambassador
Our Resort Accessibility Ambassadors will assist you with any accessibility requirements prior to and during your stay to ensure it is trouble free.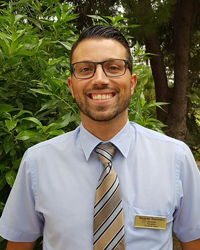 Ricardo Guerreiro
Ricardo.Guerreiro@diamondresorts.com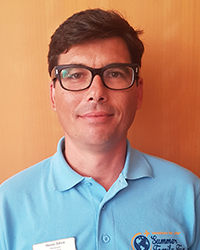 Nuno Silva
Nuno.Silva@diamondresorts.com
Accessibility Ambassadors will be wearing this distinctive badge:

We care, ask me how.
Accessibility Photo Gallery
Weather
Destination Guide
Destination Guide