Wychnor Park Country Club

To contact the resort, please call +44 (0) 1283 791391
Overview
Overview
Wychnor Park Country Club, Wychnor Hall, Staffordshire, England, Staffordshire, DE13 8BU, United Kingdom
A portrait of countryside charm, Wychnor Park Country Club is perched on a patchwork of green foliage and surrounded by rolling hills. Nestled between Burton on Trent and Lichfield, this Staffordshire destination offers a picturesque English retreat with exciting cultural highlights and a variety of events to entertain all ages. Visit Barton Marina and explore the galleries, shops and parlors, or dine at The Waterfront and enjoy the homemade cuisine, pub ales and live entertainment.
Dating from the period of Queen Anne, Wychnor Park Country Club's 55-acre estate, with its Grade-2 listed Great Hall, gracefully adorns the countryside. This majestic manor house overlooks the well-manicured grounds and offers a range of tasteful, fully furnished accommodations with state-of-the-art facilities. An abundance of on-site sporting activities include croquet, mini-golf and a bowling green to enhance this idyllic country retreat.
View Diamond Resorts Environmental Policy
Experiences and Nearby Activities









Onsite Amenities and Activities










Accommodations
Accommodations
Guest Accommodation Information
Photo Gallery
Maps, Directions & GPS
Maps, Directions & GPS
Wychnor Hall
Staffordshire, England, Staffordshire
DE13 8BU
United Kingdom
+44 (0) 1283 791391
Directions
General
Driving: This local map may prove useful as you get closer to the resort. Wychnor is situated off the A38 Northbound between Lichfield and Burton Upon Trent.Travel past Lichfield on the A38 heading towards Burton Upon Trent. You will pass the village of Alrewas (stay on the A38) and very soon afterwards will see signs for Wychnor. Turn off the dual carriage way for Wychnor, go over a hump back bridge, through a set of traffic lights (please note the speed limit is 15mph or 25kph from the traffic lights onwards), shortly after which, you will reach your destination.
If you are approaching from the North, go past Burton Upon Trent, heading towards Lichfield. Approximately 7 miles past Burton, you will reach a turn off for Wychnor and Alrewas which will take you up and over the carriage way and back onto the Northbound side where you can pick up the directions above. NB. If using a 'Sat Nav' please enter 'Wychnor' rather than our postcode.
Airports
Main Airport
Airport: Birmingham Airport
Directions to Resort: (From Birmingham airport) Turning right onto Herald Road (Airport exit). Continue Herald Road and then onto Vanguard Road. Bear left onto Airport Way and, at the roundabout, take the third exit and merge into Coventry Road - A45 (M42, M6, M1, M40, M5, Coventry). Branch left (M42, M6, M1, M40 and then at the roundabout take the second exit to join the M42 (The North, M1 and M6). Take the middle lane at Junction 9 to continue on the M42 (The North East, M1 and Tamworth). As you leave the M42 take the second exit at the roundabout onto the A446. At the next roundabout take the first exit staying on the A446. At the Bassetts Pole roundabout take the third exit for the A38 (Lichfield). At the Swinfen roundabout take the third exit which then merges onto the A38 (Burton). Continue on the A38 and just after the Alrewas village, turn left off the A38 at the signpost for Wychnor. After leaving the A38 you will go over a hump back bridge. Follow the single track lane for approximately one and a half miles to the small traffic lights (with a wait time of up to four minutes). Drive through the narrow section and on to the resort.
Taxi fare (one way): £40 approx.
Secondary Airport
Airport: East Midlands Airport
Directions to Resort: (From East Midlands Airport) Turn left onto Viscount Road. At the roundabout take the fourth exit (All Routes A453). At the traffic lights, turn left onto the A453 (Nottingham) and then at the next roundabout take the second exit staying on the A453. At the next roundabout take the first exit for the A453 (Nottingham/Derby) and continue to the next roundabout where you take the first exit for the A50 (Stoke/Derby).
Continue on the A50 and exit at Junction 4. Take the second exit at the roundabout and merge onto the Burton Road (Birmingham, Burton Upon Trent). Stay on the A38 until there are signs for Wychnor and Alrewas. Turn left off the dual carriage way and at the roundabout turn right. At the next roundabout turn right again and eventually merge back onto the A38.
After a short distance you should turn left off the A38 at the signs for Wychnor. After leaving the A38 you will go over a hump back bridge. Follow the single track lane for approximately one and a half miles to the small traffic lights (with a wait time of up to four minutes). Drive through the narrow section and on to the resort.
Taxi fare (one way): £40 approx.
Services & Amenities
Services & Amenities
Regional Activities
Britain's rich history and natural beauty make short breaks and longer stays abundant with memorable moments. Vibrant cities, picturesque villages and traditional pubs, world-famous museums and galleries, rolling hills and stirring mountain peaks embody these islands. Wherever you go you are sure to be greeted with warm hospitality, from the stirring highlands and lochs in the north to the beautiful south coast, the United Kingdom is full of surprises. Distance from Resort: Beach: 168 km; Marina: 170 km; Shops: 5 km; Supermarket: 10 km
Nearby Activities
Cinema
Cycling/Bike Rental
Fishing
Gardens
Golf
Horseback Riding
Lawn Croquet
Marina
Mini Golf
Movie Rentals
Museums
Nightlife
Parks
Picnic Area
Restaurants
Snack Bar
Snowboarding
Table Tennis/Ping Pong
Zoo
On-site Activities
Activity Center
Bowling Green
Croquet Lawn
Fitness Center
Gardens
Golf
Lawn Croquet
Mini Golf
Picnic Area
Playground
Sauna
Steam Room
Tennis
On-site Services
24-hour Security
Activities Dept.
Baby Accessories Catalogue
Baby Gates
Beauty Treatments To book, please contact Reception. The treatment will take place in the members unit.
Book Library
Coins Operated Dryer
Cot
Free Parking
Hairdresser
High Chair
Housekeeping Schedule/Service
Laundry Facilities
Mail Box
Massage Services
Parking On-Site (charges may apply)
Restaurant
Security
Wi-Fi (complimentary)
Nearby Services - 5 Miles/8 Kilometers
ATM / Banking
Grocery
Hairdresser
Kennel: Mr Gough, Northgate Kennels, Wychnor; 300 meters from resort.
Medical Facilities
Pharmacy
Religious services
Shops Hours The Tesco supermarket in Lichfield is open 24 hours whilst the Morrisons in Burton On Trent is open 7:00-21:00 daily except for Sunday which is 10:00-16:00.
Business Amenities
Copier
Fax
Free High Speed Internet
Swimming
Indoor Heated Pool
Whirlpool (indoor)
News & Events
Dining
Dining
The bar and restaurant at Wychnor Park are closed. For information on local dining venues please contact the resort reception who will be able to help. We apologise for any inconvenience this will cause.
Restaurants and Lounges
No restaurant located on-site.
Fact Sheet
Fact Sheet
Arrival Information
Check In/Out
24 Hour Reception
At Your Service (Optional):

Wake up and start your day in the most nutritious way with our Good Morning Packs delivered to your accommodation. Whether early birds or sleepy heads, our breakfast packs are sure to keep the whole family sunny side up all day long! Please order in advance.
Check In Day: Every day
Check in time: 16:00
Check out time: 10:00
Express Checkout
Hospitality Pack: Within your accommodations you will find a Diamond Resorts arrival hospitality pack consisting of tea bags, coffee and decaf sachets, sugar, salt and pepper, sweetener, and milk.
You Need To Know
Prior to checking in:


Anti-Social Behaviour: Any anti-social behaviour that affects the family-friendly atmosphere of the resort will not be tolerated. Resort management reserves the right to refuse check in or terminate your stay were any guest(s) is displaying abusive or disruptive behaviour that could cause harm or a disturbance to other guests or staff including damage to the property or affecting the enjoyment of guests. In the event such action is taken, resort management will have no further liability or obligation to you and no refunds will be given.

Due to the nature of our resorts, please note that they are not suitable or recommended for stag/bachelor, hen/bachelorette or similar parties.

Hotel Guests Only: Bookings of five or more rooms are subject to the group booking terms and conditions. Full payment must be made 30 days prior to the arrival date. No cancellations or refunds are permitted once booked. Due to COVID 19 restrictions, group bookings can only be processed if they adhere to regional or national rules and mandates.

For Hotel Guests only, the resort requires a valid credit card to charge a refundable security deposit of £100 per apartment upon check in. For Members of THE Club® the deposit is £0.01. Your deposit will be refunded at the end of your stay upon inspection of your apartment(s) however please note the funds will only appear in your account once processed by your financial institution.

Upon check in all guests occupying the unit (incl. children) must present a valid form of ID along with confirmation of your reservation.

Children under 18 are not permitted to stay in the accommodation unless accompanied by a parent or guardian. One child under 24 months old is included in the occupancy level for your apartment. Under no circumstances can the maximum occupancy level be exceeded.

Late Arrival: If you intend to arrive later than midnight on your arrival date please notify the resort as soon as possible or your reservation will be deemed as a 'no show' and may be cancelled.

All apartments are self-catering. Sofa beds will not be made up on arrival. Apartments are not cleaned daily during your stay - a cleaning schedule will be provided upon check in.

Special requests for specific apartment locations and views cannot be guaranteed. The hotel/resort will do try to accommodate your requests; however, they are based upon availability at the time of your apartment assignment at check-in.

Please advise us if you're checking-in after 10pm.

Pets not allowed (except assistance dogs).

No commercial vehicles allowed at any time.

Free Wi-Fi is available at the property.
Resort Details
Management
Resort Manager: Andrew Watt
Phone
Rental Phone: +44(0) 800 358 6991
Resort/Hotel Size
Number of Accommodations: 44
Number of Floors: The main house has 3 floors, none of the accommdation within the building is on the ground floor. All log cabins are bungalow style. Within the courtyard there are 4 bungalow units whilst the rest have 2 floors. All units within the coach house are bungalow style once you are inside, however some are on the 1st floor of the building.
Special Information
Highlights: Wychnor Park is situated in the middle of the countryside yet is within easy reach of the A38 and some of the countries major motorways. The resort has many facilities for you to enjoy - 9 hole golf course, crazy golf, tennis, croquet to name but a few - as well as a weekly entertainments programme and services such as a holistic therapist and nail technician. In the local area there is much to see and do. Warwick Castle and Stratford Upon Avon are not far away and even nearer is Lichfield Cathedral which is a 'must see' during your stay. Whatever you want to see and do on your holiday, you will find it in the area surrounding Wychnor.
Accessibility
Accessibility
Resort Accessibility Map
Terrain
Level
No steep gradients or inclines. Resort roads well maintained. Some steps leading from one area to another but alternative routes are always available.
Communal Areas
Reception
Level access. Intercom on front door for assistance. Lowered reception desk, ramp flooring replaced to create colour contrast, lighting replaced, additional hand rails installed, accessible toilet.
Bar/Restaurant
Accessed via Reception – one level. Ramp available to conservatory end of restaurant.
Entertainment
Accessed via Reception – one level.
Leisure Centre
Level access. Manual doors with intercom. One level. Accessible changing area available with panic alarm. Pool hoist. Handrails to pool steps and spa. Assistant on duty during opening hours.
Externally
Handrails put on all steps, all steps marked with yellow warning strips, bollards in places to create pedestrian walkways.
Coach House
Front door painted to create contrast. Lighting replaced to make the area brighter.
Parking
Designated accessible parking bays available. Accommodation has allocated parking outside or very near to accommodation.
Accessible Accommodations
Fully Wheelchair Accessible Accommodation
All areas within the accommodation and exterior are accessible to a wheelchair user or a guest with a severe reduced mobility. They have electric beds, adapted bathrooms, special high backed chairs and kitchen unit/work surfaces are lowered or can be pulled out for ease of access for wheelchair users.
We offer 2 accommodations in total: 2 two-bedroom accommodations
Partially Wheelchair Accessible Accommodation
Suitable for travellers with restricted walking ability who may need a wheelchair. Some areas within the accommodation and exterior are accessible. They have electric beds, adapted bathroom and special high backed chairs (kitchen units/work surfaces are standard height).
We offer 2 accommodations in total: 1 one-bedroom accommodation and 1 two-bedroom accommodation
Accessible Accommodation
Suitable for a person with sufficient mobility to climb a few steps, but who would benefit from fixtures and fittings to aid balance.
We offer 1 accommodation in total: 1 two-bedroom accommodation
All Accommodation
Accommodation steps marked with warning strips.
Equipment Available (Upon Request)
Please follow the link(s) below to our Accessibility Aid Catalogue with a wide range of complimentary items available to lend to members, owners and guests for your comfort during your stay (subject to availability).
Measurements for Equipment Available Upon Request
Pool hoist: weight limit 140 kg
Wheelchair: 43 cm wide (seat); weight limit 113.4 kg
Wet wheelchair: 56 cm high (seat), 48 cm wide (seat), weight limit 136 kg
Shower Chair: adjustable in height; weight limit 136 kg
Accessible Outings and Excursions
National Memorial Arboretum
The Arboretum is the UK's year-round centre of Remembrance, home to 330 memorials set in 150 acres of land. They recommend visitors allow at least three hours for a visit to appreciate all there is to see. Entry into the Arboretum is free, although donations are appreciated. An additional charge will apply for some activities include the Landscapes of Life exhibition. They endeavour to cater for the needs of all our visitors and accommodate all access requirements where possible. All areas in the Remembrance Centre including the main entrance, Welcome and Orientation areas, restaurant and toilets are on a single level. The entrance lobby floor is carpeted. The remainder of the Remembrance Centre floor in the restaurant, gift shop and toilets is hard standing; there is a clear contrast between the walls and floor. The restaurant seating and servery, located beyond the Orientation Area, are accessible to wheelchair users. There is limited space inside the Millennium Chapel for wheelchairs and electric mobility scooters. A very limited number of wheelchair spaces, accessed via a ramp, are available on the Land Train. Spaces are issued on a first-come, first-served basis. There is outside space for the parking of wheelchairs and electric mobility scooters. 15 marked disabled parking spaces are available directly outside of the Remembrance Centre entrance.
Lichfield Cathedral
Discover over 1300 years of history in the only medieval three-spired cathedral in the UK! See a medieval wall painting, the famous Herkenrode stained glass, the Lichfield Angel and much more. There is a ramped access to the cathedral and once inside all areas are accessible apart from St Chad's Head Chapel, which can only be accessed via a flight of stairs. Mobility scooters and manual wheelchairs are welcome within all areas of the cathedral and Close. A dedicated audio tour of the cathedral for the visually impaired and partially sighted is available on request from the Shop at No 9. Assistance dogs are welcome in all areas of the cathedral and Close and water is available on request. The cathedral is equipped with induction loops. Hearing aids should be switched to the T position. There is one accessible toilet located outside the cathedral. Disabled parking bay on a slight incline approximately 100m away from the cathedral.
Branston Water Park
The water park is a 16 hectare (40 acre) lake, formed from the flooding of a disused gravel pit, surrounded by woodland, wetland and wildflower meadows. The park lies between the A38 and the Trent & Mersey Canal, a few miles south of Burton upon Trent. Known today as a premier wildlife site in East Staffordshire, the water park is home to many species of plants and animals, both common and nationally rare, and boasts one of the largest reed beds in Staffordshire. Follow the circular surfaced trail (just over a mile in length) which leads around the lake and through the woodland. Look out for the varied range of birds, animals and insects that populate this beautiful setting. In 2008, Branston Water Park was named as one of the top ten places in the country for family walks. All paths are tarmac around the lake and through the woods, except for the short sections marked on the map. Flat and fairly easy; all paths are wheelchair accessible with passing points and benches at regular intervals. Interpretation boards installed at a suitable height for wheelchair users. Main car park, with six disabled bays, next to the water's edge. Further parking, with two disabled bays, beyond the play area. Both car parks are tarmac surfaced and have paved crossings with drop curbs. East Staffordshire Borough Council has produced a DVD showing disabled facilities at Branston Water Park and other sites. Contact 01283 508573 for further information. Please note: The canal towpath is narrow in places and there is no barrier at the water's edge by the path, so care should be taken.
National Cold War Exhibition at the Royal Air Force Museum
The museum tells the story of the people who moulded the world of aviation from the daredevil early aviators to wartime heroes and the thousands of ordinary service men and women who have served in the RAF and whose contribution has shaped the world that we live in today. With a world-class collection and display of aircraft, integrated with special exhibitions, films, interactives, artwork, engines, missiles, photographs, medals and uniforms and research and education facilities, the museum takes an innovative approach to telling these stories whilst keeping with tradition. Low level barriers ensure excellent viewing of exhibits for all visitors. There are wide aisles in the hangars ensuring access for pushchairs and wheelchairs is very easy. A limited number of manual wheelchairs and motor scooters (weather permitting) are available for loan on site at no charge. These are available on a first-come first-served basis at the Admissions Desk. For those with visual impairment there are tactile diagram booklets available for loan in this building. The tactile diagram booklets can be collected from the Admissions Desk in the Visitor Centre. Toilets and baby change facilities are available in the Visitor Centre, Test Flight, National Cold War Exhibition and Hangar 1. The car park has designated spaces for disabled visitors and families with pushchairs.
Cadbury World
Cadbury World is a visitor centre - not a tour of the Cadbury factory; you will discover the history, the making and the magic of Cadbury confectionery through a variety of chocolatey zones. The average walk around the main attraction itself lasts about 1 hour 30 minutes, not including the Bournville Experience museum and the 4D Chocolate Adventure for which you should allow roughly 1 hour 30 minutes. There's also a playground, shop, a restaurant and a picnic area. In total, most of our visitors spend around 3-4 hours on site. There are ramp adaptations throughout and lift access where available. A first aid room is also available. Low-level reception counter and low-level exhibits in certain zones. There are ramp adaptations throughout and lift access where available. A bean mobile on our Cadabra ride has been adapted for wheelchair use. There are two wheelchair spaces in the 4D Chocolate Adventure cinema. Offer visually impaired visitors the opportunity to feel and touch key props at various stages (i.e. in our Chocolate Making Area, our chocolatiers can hand out the moulds they use to make chocolate products as they give their demonstration talk). Guide dogs are allowed throughout the attraction except in production areas. We offer a guide dog sitting service at this part of the experience and one of our staff will be able to offer additional assistance. There is a large print script available of the tour and tactile surface changes to indicate differences in levels. There are accessible-compliant handrails, stairs and steps with coloured warning edges and directional signage. A written script of the tour is available from reception and there is an infrared system for visitors with a compatible hearing-aid system. The majority of our video presentations have English subtitles. Please note that in the event of an emergency, house lights will come up to warn of this. BSL interpretation screens are present at relevant points of the tour. A number of bilingual members of staff, some with BSL basic skills and the majority of staff have undertaken basic courses in autism awareness and Makaton. There are accessible toilets on each floor and throughout the attraction. There is also a state of the art changing places facility which can be accessed using a RADAR key which is available from reception. The facility includes rails and support arms, height adjustable sink unit and height adjustable changing bed, automatic toilet, ceiling lift and modesty screen. Extensive parking facilities are located near the entrance to Cadbury World. The 4D cinema may not be suitable for those easily startled by sudden movement, motion effects, loud music, or periods of darkness. Due to motion effects used in the pre-show and cinema, it is not suitable for pregnant women or guests with heart or spinal conditions. There is a zone in the African Adventure play area designed for wheelchair users with ramps, lower level interactive areas and tactile surfaces. Our wheelchair friendly playground is suitable for children aged 2 - 14 years.
Proximity/Accessibility to Local Supermarkets/Shops/Etc.:
There are accessible shopping centres and supermarkets within 10 minutes' drive from the resort.
Public Transport
Not available from the resort.
Haemodialysis Clinic Close to Resort
Derby Hospital, approximately 40-minute drive
Address: Uttoxter Road, Derby, DE22 3NE
Telephone: 01332 789344
Meet the Resort Accessibility Ambassador
Our Resort Accessibility Ambassadors will assist you with any accessibility requirements prior to and during your stay to ensure it is trouble free.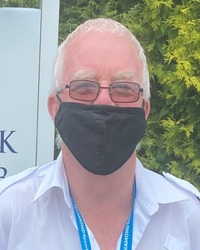 Brian Fitzpatrick
WychnorPark@diamondresorts.com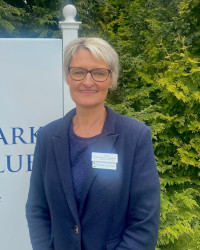 Tracy Herron
WychnorPark@diamondresorts.com
Accessibility Ambassadors will be wearing this distinctive badge:

We care, ask me how.
Accessibility Photo Gallery
Weather