Blair O'Neal

Golf TV Personality and Model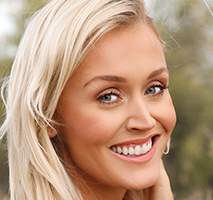 Blair was born in Macomb, Illinois but shortly thereafter her family relocated to Phoenix, Arizona where she spent the rest of her childhood. After winning the Women's 5A Arizona State Golf Champion, Blair took a full ride scholarship to play collegiate golf at Arizona State University where she competed all four years having never missed or being sat out of a single tournament. She was also crowned a two time NCAA women's long-drive champion. After college, Blair turned professional and spent some time playing golf in Asia before gaining status on the LPGA Symetra Tour (then known as the LPGA Futures Tour). For several years, Blair fought financial instability with tour life and after a broken foot, she decided to put her clubs down for a few years and turned her attention to modeling full-time.
After nearly five years away from competitive golf, Blair accepted an invitation to compete on the Golf Channel's Big Break television program. Blair finished runner-up on Big Break: Prince Edward Island and later went on to win Big Break: Dominican Republic. Blair's winnings from Big Break propelled her back into competitive golf where she quickly regained her status on the LPGA Symetra Tour while also competed in various LPGA and Ladies European Tour events. After competing on tour for several more years, Blair eventually made the decision to transition into media. She currently co-hosts School of Golf, a weekly instructional golf program with Martin Hall on the Golf Channel, as well as routinely appears on the Golf Channel's other programs such as Morning Drive.
For your chance to meet Blair O'Neal, see our schedule of upcoming Diamond events.