Bud Norris

Major League Baseball Player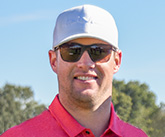 Bud Norris is a Major League Baseball player, currently signed to the St. Louis Cardinals. In 2014, he went 15-8 with a 3.65 ERA as the team won the American League Eastern Division. Over the course of 7 seasons, Bud amassed 55 wins for both Baltimore and the Houston Astros. He joined Diamond Resorts as an ambassador in early 2015.
Norris was selected in the sixth round (189th overall) of the 2006 Major League Baseball Draft by the Houston Astros. Baseball America ranked him as the number two prospect in the Astros' organization. In August 2009 he was named the Pacific Coast League Pitcher of the Year, after leading the league with a 2.63 earned run average.
Norris received his first major league start on August 2, 2009, where he took a no-hitter into the sixth inning and pitched seven shutout innings against the St. Louis Cardinals to earn his first career victory. In his rookie season overall, Norris went 6–3 with a 4.53 ERA in ten starts.
For your chance to meet Bud Norris, see our schedule of upcoming Diamond events.