Chad Pfeifer

U.S. Military Wounded Veteran Golfer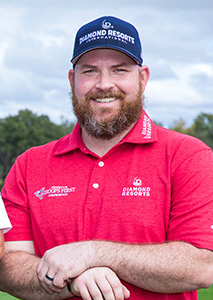 Chad Pfeifer was a multi-sport high school athlete who continued his baseball career in college. Shortly after college, Pfeifer joined the United States Army as an infantry paratrooper and served with 4/25 3/509th stationed at Ft. Richardson, Alaska. His unit was sent to Iraq in October of 2006 during Operation Iraqi Freedom and on April 12, 2007 Pfeifer's truck was hit with a pressure plate IED that resulted in the amputation of his left leg above his knee. He spent the next year at Brooke Army Medical Center (BAMC) at Ft. Sam Houston in San Antonio, TX doing rehab and physical therapy learning how to walk with a prosthetic leg. While at BAMC, Pfeifer picked up the game of golf as a form of therapy and fell in love with it, hitting golf balls every afternoon and playing the course as much as he could.

After leaving BAMC and medically retiring from the Army in July of 2008, Pfeifer's love of golf led him to pursue a career in golf. He attended the Golf Academy of America and in 2011, graduated at the top of his class.

In 2011, he won the National Amputee Championship hosted at Rio Verde Golf Club and the Inaugural Warrior Open, an event hosted by former President George W. Bush. Pfeifer successfully defended his title in 2012 and 2013 of the Warrior Open and recorded a hole in one on the 4th hole in front of former President George W. Bush in 2012. He also competed in the 2014 American Century Golf Championship and finished in 5th place.

For your chance to meet Chad Pfeifer, see our schedule of upcoming Diamond events.