Colt Ford

Country Music Artist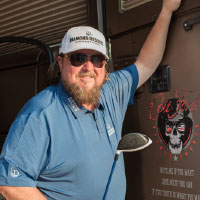 Colt Ford, a one-time pro golfer turned songwriter and musician, delivers a groundbreaking blend of country music and hip-hop rhythms.
His 2012 chart-topping Declaration of Independence remained on the Billboard Country Album chart for more than 58 weeks. Ford's 2014 album, Thanks for Listening, features collaborations with pals Keith Urban, Duck Dynasty's Boss Hog, Willie Robertson, Jerrod Niemann, Randy Houser, Justin Moore, Chase Rice, Lee Brice, Walker Hayes and Daniel Lee. Thanks for Listening is a celebration of the things near and dear to Colt Ford's heart – America, country music, hard work, celebrating life with family and friends and simply having a good time in the process.
After writing #1 country hits for Jason Aldean ("Dirt Road Anthem") and Brantley Gilbert ("Country Must be Country Wide"), Ford, currently collaborating with Brad Paisley, has more than one million Facebook fans, 100 million YouTube views, has sold more than one million albums and several million downloads.
For your chance to meet Colt Ford, see our upcoming Diamond Live concert series schedule.