Mark Rypien

Super Bowl XXVI MVP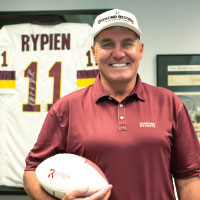 Canadian-born Mark Rypien played football for Washington State University, establishing himself as the number two All-Time Passing and Total Offense Leader. He also earned All-American honors in 1984 and 1985 and was named the Top Quarterback in the Pac-10 Conference in 1985. His collegiate career ended with Rypien throwing two fourth quarter touchdown passes just 49 seconds apart to lead his Senior Bowl team to victory.

Rypien was selected by the Washington Redskins in the sixth round of the 1986 National Football League (NFL) draft. He then led the Redskins to the 1991 NFL championship and earned MVP honors in the 1992 Super Bowl. Rypien was twice selected to play in the NFL Pro Bowl.

For your chance to meet Mark Rypien, see our schedule of upcoming Diamond events.