Michael Waltrip

Professional Race Car Driver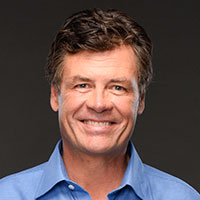 Professional race car driver Michael Waltrip is a two-time winner of the prestigious Daytona 500, having won in 2001 and 2003. Now recently retired, Waltrip's career spans more than 30 years; he posted more than 130 top 10 finishes on NASCAR's premier Sprint Cup series, including four career race wins. He scored 11 wins and more than 105 top 10 finishes in NASCAR's Xfinity Series and even has a win in NASCAR's Camping World Truck Series division. As an owner, Waltrip founded Michael Waltrip Racing, a team which competed in several of NASCAR's divisions, and spent nine years as a full-time multi-car team in Sprint Cup, claiming seven wins and finishing runner-up in the NASCAR Sprint Cup Championship in 2012 with driver Clint Bowyer.
His dynamic personality, razor sharp wit and intricate knowledge of all sides of the industry have made him one of the top analysts on "NASCAR on FOX" where Waltrip is a pre-race and in-race analyst on the Sprint Cup team, and an in-booth color analyst for Fox's Xfinity and Camping World Truck series broadcasts. Waltrip has raced all over the world, competing in several sports cars events, including the 24 Hours of LeMans, the 24 Hours of Daytona, and events in Japan, Dubai and Europe.
Waltrip's book "In the Blink of an Eye" spent 11 weeks on the New York Times best seller list in 2011. The book is a poignant story about his struggles to become a race car driver all the way to a minute-by-minute account of the day in which he broke a 462-race losing streak by winning the sport's most prestigious event, the Daytona 500, only to find out that his boss, his owner, his best friend and the man who gave him a race winning car, Dale Earnhardt, died in a horrific crash off turn four at the same moment Waltrip took the checkered flag. Waltrip became even more recognizable to the general population after cameo appearances in a few television series shows, and as a participant in Season 19 of Dancing With The Stars, where Waltrip lasted eight remarkable weeks.
For your chance to meet Michael Waltrip, see our schedule of upcoming Diamond events.