Reggie Jackson

Baseball Hall of Famer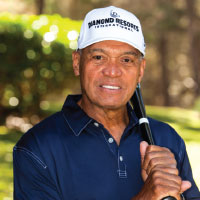 Reggie Jackson played for 21 seasons over the course of his major league career from 1967 until 1987. He was given the name "Mr. October" for his postseason heroics. Jackson is a 14-time All-Star and five-time World Series champion. He won two Silver Slugger Awards, the 1973 American League Most Valuable Player (MVP) Award, two World Series MVP Awards, and the 1977 Babe Ruth Award. Jackson was inducted into the Baseball Hall of Fame in 1993.
Diamond Resorts members have several opportunities each year to meet Jackson through Events of a Lifetime®, Diamond's exclusive experiential vacation program. Each year, Jackson hosts Diamond Resorts members at New York Yankees Spring Training games in Orlando, Florida. He signs autographs, takes photos and answers questions for members looking to learn more about one of the most recognizable Yankees players in baseball history.
For your chance to meet Reggie Jackson, see our schedule of upcoming Diamond events.